SF Quotes
" The Three Laws Of Robotics
A robot may not injure a human being or, through inaction, allow a human being to come to harm.
A robot must obey orders given to it by human beings, except where such orders would conflict with the First Law.
A robot must protect its own existence as long as such protection does not conflict with the First or Second Law
"
Isaac Asimov
Facebook AntiSF
Login Form
Why Not Visit

Do you like your SF in audio?
Of course you do. Well, why not visit Beam Me Up Podcast and radio show, often featuring selected stories from AntipodeanSF, run by your host Paul Cole of WRFR.
Next Issue
Lara Croft & The Circle Of Time
By Wes Parish
Star Light, Star Bright
By Rie Sheridan Rose
Spotter
By Jake Wickenhofer

The Sack Man
By Bart Meehan
The Granary
By Kevin J. Phyland
Signal Assassin
By Shane Griffin
The Listener
By David Shanahan
Capsules
by Tonia Marlowe
Rogue Wave
by DW Walker
Books Just In
Apocalyptica - Rogue Memories - by Shane Griffin

Apocalyptica - Rogue Memories
Shane Griffin
The debut SF novel from a regular AntiSF contributor...
Get it at Smashwords
Price: $2.99 USD.
Approx. 128,090 words.
Language: English.
Published on May 11, 2013.
Category: Fiction.
Hirri is a talented Sioken, someone who can control minds. His job is to keep the peace. However, his brain has been damaged and is augmented by AI. He has lost part of who he is.
Morgan is Hirri's Linker, the one who keeps him from losing control. Their minds are linked through the psych-link. If she dies he dies.
Wild Justice - Kelley Armstrong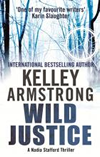 Wild Justice
Number 3 in series
No - not Speculative, but by an otherwise well-known speculative author, so give it a go!
Kelley Armstrong
Wild Justice: the dramatic finale to the Nadia Stafford trilogy.
Ex-cop Nadia Stafford has a dark secret. After taking the law into her own hands she was kicked off the force. . . and entered the shadowy world of guns for hire. She has her own strict code - works only for one crime family, only kills the really bad guys. But when a hit goes tragically wrong, Nadia is devastated. Is it time to leave the business for good?
Welcome to AntipodeanSF
Speculative Flash Fiction

You're about to launch into an adventure at AntipodeanSF, the online magazine that's devoted to the regular monthly publication of fabulous and original science-fiction, fantasy, or horror mini-stories of about 500 words each.
AntipodeanSF will entertain you, yet won't take hours to read.

Please spend a few moments to read this month's stories, reviews, and other information about down-under SF.
AntipodeanSF is also optimised for reading on your i-phone, i-pod, other mobile phone, or PDA device. Read us anywhere!

| | | | |
| --- | --- | --- | --- |
| True Path (Timesplash 2) by Graham Storrs | | | |
Micro Review by Nuke
True Path (Timesplash Book 2), Graham Storrs, Momentum Digital Books, July 2013

I reviewed the first in this series by Graham Storrs back in May 2010. This new book, set 16 years on from Timesplash, is a fitting sequel that perhaps surpasses the first story in many ways. Sandra and Jay, feature characters from Timesplash, make a reappearance in True Path, with an addition to the family — and the rollicking techno-thriller of a story lands the reader in the midst of a future USA that has been commandeered by the religious right, which adds an extra layer of intrigue and tension.
Read more...

The AntipodeanSF Radio Show delivers audio from the pages of this magazine.
The monthly program features all of the issue's stories, usually narrated by the authors themselves, with occasional reviews, news, interviews, or longer stories.
The AntipodeanSF Radio Show is broadcast in the Nambucca Valley, on the Mid North Coast of NSW on one Sunday evening a month, on community radio, 2NVR, 105.9FM.
You can find every episode online here: http://antisf.libsyn.com
Or listen to the latest show right here, right now:

New Books

The Red Knight
Miles Cameron
A violent, fast-paced and compelling debut fantasy novel, in a world where heroes and monsters are not quite as they seem...
This is a world dominated by The Wild.
Man lives in pockets of civilisation claimed from The Wild. Within men's walls life is civilised, the peace punctuated by tournaments, politicking, courtly love and canny business. Beyond those walls men are prey - vulnerable to the exceptionally powerful and dangerous creatures which populate the land and even more vulnerable to those creatures schemes.
Read more...