Strange Bodies (A Crime Thriller)
By Antonia Marlowe
Tortured, and brutally murdered, the bodies of the Richardsons hang from a tree deep in the forests of the Blue Mountains
Australia in 2067, an oasis in a world which has barely survived climate change, terrorism and food wars. The Richardsons' deaths are just two of several brutal murders to be unearthed. With local police stymied, former Scotland Yard Commander, Nicholas Adams and his team, are called in. But even with the extensive surveillance of central computer BigSys and the pervasive eyes of cameras that cover so much of the country, it takes the skills of the attractive Verity Burne – computer wizard and freelance feature writer – to uncover the links between the homicides that lead to the discovery of past injustices and a thirst for bloody vengeance.

The Circle of Six
By Dan Sanders
Fantasy
The Twin worlds of Earth and Annwyn are in crisis: the seasons are out of balance and the worlds are dying. Their only hope is Daimon, an Athenian boy, and a small bird named Emily.
Dragged through a portal between the two worlds, Emily almost dies in the snow. Eostra, Mother Spring, saves Emily's life and transforms her into a snow rabbit. Now Emily's quest begins, and with Daimon as her protector, she must decipher the prophecy and gather The Circle of Six, beings of great power called on in times of darkness upon the land.
An Air-Elf, a young scholar, a prince and a fire-tiger are the reluctant and final members of the Six, called upon to aid Daimon and Emily.
Read more...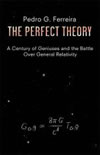 The Perfect Theory
A Century of Geniuses and the Battle over General Relativity
Pedro G. Ferreira
Non-Fiction (Popular Science)
An engaging popular history of Einstein's General Theory of Relativity, taking in the sheer magnificence of its discovery, as well as the infighting that the theory sparked across a century.
Albert Einstein's General Theory of Relativity is possibly the most perfect intellectual achievement in modern physics. Anything that involves gravity, the force that powers everything on the largest, hottest or densest of scales, can be explained by it.
Read more...