By Eugen M. Bacon

DRAGON AND I SIT AT THE BAR. Tavern Terrafirma is chockers, bustle as drunks, punters and bartenders in baby aprons and carrying trays interlace with the crowd.
Dragon is on pristine behaviour.
'Fire play, none tonight,' I'd counselled. But a crystalline shade, pretty as a wish in his arms, not my warning, bears reason for his unspoiled manners. She has azure eyes, wide. A glitter of gems strokes her arms, throat and ears.
Dragon needs no notice of how her colourless skin could never endure his flames; never seen him gentler. He clicks his fingers. A barmaid, all bosoms, appears.
'One freezer for my beaut, one sequin double for Russo,' points at me, 'a pint of red lantern for me.' Slips a twenty in the valley of her chest. 'And one keep change for you, my dear.'
The shade pouts.

I chow on chilled pheasant, and notice a spread of curls at the corner. 'That, is who?'

Dragon shrugs.
A clink of coins in the haze of smoke … now the jukebox is playing. Spread of Curls faces us at the bar. Olive eyes sweep past me. I turn. It's a traveller. Tavern Terrafirma is the traveller's inn, attracts them like flies. This one treads his way to a stool beside Spread of Curls.
He smiles. She smiles.
I twirl to Dragon and his shade. 'Again, she — is who?'

Dragon fingers a scar on his nape. 'Diana Ferrari or her reincarnation.'
'Puff out.'
'That said with diplomatic caution,' Dragon. 'She's a moxie too, aggressive as they come.'
Moxie or not, blokes are jostling for position, but only Traveller has scored. He's bought her a drink.
'Know each other, them two?' Me.
'Don't bet on it.' Dragon.

'Puff out.'
* * *
Falcon is behind the counter, tonight on duty. He is a hawk mutant, charcoal hair gleaming, eyes sharp as pins. His red-brown cloak matches the hue of his beak. He is glowing new glasses from the steamer with a towel. He notices me, winks.
The tavern door bursts open. Headless lurches in. A crust of crimson on his neck. His severed head under his armpits. A motley crew spills after him into the tavern. Skullface is with them, dressed all tar and pearl white. Hangman too, sporting burgundy tights.
'Lost it again?' Falcon, across the counter.
'Grow back soon.' The muffled croak and echo is from somewhere inside Headless' neck. 'How about a pint?'
'Straight down the throat?'
Ribald laughter all round. Only Traveller looks troubled, I note with liking.
* * *
The lads are guzzling away, raunchy jokes aturn. Dragon and Shade have vanished. Even Hangman is in jolly disposition and has said nothing of gallows or appointments with a headstone. Spread of Curls is working the traveller, or the other way round. Doesn't matter really, they are making out. Period.
'Bloke's whopper impressive,' Hangman says. Hands me a joint.
'Shark — he sure is.'
'I'd call him a dolphin,' Dragon behind me. The shade's gone.
'Dawn climb to the mountains,' he explains. 'Come-of-age ritual, imagine that.'

Traveller and Spread of Curls are heading out the door.
Hangman's head is clasped between elbows. He snores.
Dragon glances out the window. 'Coppers, yellows and reds,' he says. 'Beware.'
I don't understand. I don't really care. Actually, I do. But fuck.

Falcon is closing shop: stool over stool over stool. Place is abandoned, just the regulars now.
'Fierce storm,' Falcon says.
'Splice, want one?'

'Why not.'
I offer him a joint.
Tavern Terrafirma reeks of burning corn. A flicker of light through the window, then a spear of lightning. A burst of copper, yellow and red chases a white shaft of light.
'There,' Dragon. 'Colours of the night.'
At first I think my hands have tremors. Then I notice the table.
'An earthquake. From where?'
The measure of shaking so intensifies I seize my drink.
A scream renders through the dusk, then quiet.
The tremors are gone.
Spread of Curls slips into the room. She pulls a stool beside me. I pretend to ignore her.
'Hey sweet girl,' Dragon says.
'Hey Drags.'
Her curls are in disarray, her face half-hidden from light.
I glare at Dragon. 'Know each other. You two?'
'Long story.'
'Puff out. Prick. Introductions, that's what.'
'My dear pal, no one introduces his best mate to a vamp. Meet Wolfmother.'
She faces me fully, olive eyes dark as a seer.
'Pleased to make your acquaintance,' she says. Her voice is as caressing as the crimson drop at the corner of her lip.

About The Author
Eugen M. Bacon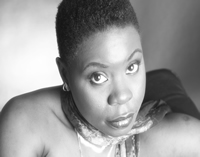 Eugen M. Bacon has published over 100 short stories and articles, and has a creative non-fiction book out with Palgrave McMillan in 2017. Her stories have won, been shortlisted, highly commended, commended and long-listed in the Copyright Agency Prize 2017, Fellowship of Australian Writers (FAW) National Literary Awards 2016, Alan Marshall Short Story Award 2016, Lightship Publishing (UK) international short story prize 2013 and Fish Short Story Prize 2013/14. Eugen's creative work has appeared in literary, science fiction and fantasy magazines and scholarly journals worldwide, including Award Winning Australian Writing, AntipodeanSF, Andromeda, Aurealis, Horrified Press anthologies, Meniscus, TEXT and through Routledge in New Writing.