By Garry Dean

Richard "Tinker" Jones was an inventor. For the most part, he kept to himself, in a garage furnished with the sort of equipment any mainstream lab would envy. In the small Australian town of Jindawalla, he was something of a mystery. The less open-minded thought he was a weirdo, someone with more money than sense. Those who knew him thought otherwise. To them he was Tinker, a slightly quirky guy, whose garage was an Aladdin's cave of wonders.
He was currently working on his latest and greatest project. The rig was basically a large Faraday cage, made up of iridium bars and carbon fibre tubing. It was big enough to comfortably house one occupant, with a backpack shoved under the control panel. The principle behind it was remarkably simple, and he wondered if that's why greater minds than his had missed it. The idea had come to him while playing around with plasma coils, and well, here he was. Einstein would have laughed, he thought.
Everything was ready to go, except for one crucial component. He was about to haul it inside the rig, when a voice boomed out.
"Hey Tinker!"
Tinker cursed under his breath, realising he'd forgotten to lock the front door. He considered staying put and keeping quiet, but knew that would be pointless. Poking his head out, he saw Johno standing there with a six-pack in his hand.
"Thought you could use a break," he said, holding up the beers.
Tinker frowned, "What time is it?"
Johno chuckled, "Christ you do need a break."
Johno's eyes flickered over the rig. "Hey, that looks impressive. What is it?"
Tinker rubbed the back of his neck. "It's...not finished yet. When it is, I'll let you know." And the world, he thought.
"Fair enough," Johno said, holding out a beer.
They cleared some space on a large toolbox and sat down.
"I've been sent round to check on you."
Tinker looked genuinely surprised.
"Yeah," Johno continued, "some people worry about you, and it's obvious you haven't seen the sun in a while."
Tinker made a dismissive wave of the hand. "I'm alright, just busy, that's all."
Johno nodded at the rig. "Can you give me a hint?"
Tinker shook his head.
"Looks a bit like one of those old arcade games," Johno observed.

Tinker smiled, "Nice try."
When he had finished his beer, Tinker stood up. "I need a leak", he said, and made his way toward the bathroom. He stopped at the doorway, and turned. "Johno, for God's sake, don't touch anything."
Johno looked offended, "Not me."
Tinker got back in time to see Johno standing inside the rig, finger poised above the control panel.
"No!" he cried. But sure enough, he heard the rig begin to cycle up. He ran up and jumped inside, just before the Faraday cage lit up. He punched the kill switch, but it was too late. They were already on their way.
There was a terrifying moment of nothingness, and then they found themselves inside a dim forest of fern-like trees. The rig tilted slightly as it settled amongst the roots and moss that carpeted the forest floor.
"Wow!" Johno exclaimed. He took a swig of the beer he was still holding. "It's like a VR right? Is it the Amazon? It looks like the Amazon."
Tinker shot him an annoyed look. "It's not a VR and it's not the bloody Amazon."
He climbed out of the rig and headed towards a gap in the trees.
Johno called out after him, "What do you mean? Oh my god, you've invented a teleporter."
Tinker kept walking. "Come on," he said.
The gap in the trees led onto a small clearing overlooking a lush, steep-sided valley. Through its centre snaked the silver reflection of a river, and in the far distance could be seen the rugged outlines of massive snow-capped mountains. The air was clean and crisp, the sky a darker blue.
"Sorry mate," said Johno, "I didn't mean to touch anything. It's just that what you do, the things you make, are so bloody interesting."
Tinker was absorbed in the view. "Damn me if it didn't work," he said.
Johno followed his gaze, and saw a large herd of something wallowing in the river, "It's beautiful, but where are we?"

"Not where, when."
"Hey? Oh no, you mean?"
Tinker nodded.
Johno laughed, "You clever bastard."
Tinker was about to say something when they heard a rustling in the undergrowth, and an ape-like creature burst into the clearing. It ran past, then stopped a short distance away, and turned to face them. It was an upright, powerfully built individual, with broad shoulders, a heavy jaw and curious eyes. A range of emotions appeared to flicker across its face as it studied them. Then it sniffed at the air, let out a grunt, and ran on. Soon others like it shot out of the forest, hooting and hollering as they ran past, to disappear on the other side of the clearing.
There was an awkward silence before something else came crashing through the forest, and they turned to see a very large cat with long fangs poke its head out through the foliage. It too paused to study the men, poised between caution and hunger.
"Arrrr, is that what I think it is?" asked Johno.
"Yep."
"Maybe we should head back to that time machine of yours, and get the hell out of here?"
"Slight problem," replied Tinker.
Johno glanced over, "What?"
"Remember how I told you it's not finished yet?"
"Oh shit."
The Sabre-tooth, either bored or catching a whiff of fear, made a dash towards them.
"Run!" they yelled in unison — and sprinted across the clearing in the direction their ancient ancestors had taken.

About The Author
Garry Dean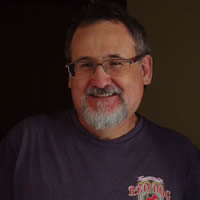 I live on the Mid North coast of NSW and became a space nut at the tender age of eight after seeing 2001 a Space Odyssey. I am a big fan of the classic sci-fi, back in the days when spacecraft were called rockets and landed backwards. Over the years I've had a few stories published in AntiSF, as well as other online mags. Being vision impaired, I make good use of voice recognition and text to speech in order to write. Needless to say, I don't read stories so much as listen to them. Glad I live in an age where audio books, podcasts, and radio shows exist. You can catch more of my stories at: <http://www.garrydean.wordpress.com/>