By Robert David

I enjoy crippling them. I catch them, twist their limbs and tear their eyes out. Sometimes I thrust my fingers into their ringed eye sockets and twist. I revel in that sharp exclamation of surprise, as if they are victims of some crime.

I'll always remember the final cry of a girl I ran down once in a car accident, smashing her ribs.
She was one of four youths heading home from a party in a fast car — two men and two women. I'd been terribly bored that night until I'd seen them on that slimy snow-laden road. I sat between the two girls on the back seat and listened to their conversation for a moment. They were laughing … they were well-off students. I couldn't help myself; I veiled into the driver, took over the car's controls, and accelerated it through the next corner at full throttle.

Such a beautiful view. We left the bitumen and ran into a tree. The girl sitting on my right-hand-side was the nicest. I found a way to pull the seat in front of her from its holder. The seat, and the blimp of a man sitting in it, were drawn by the centrifugal force and thrown over the girl. So sweet, so full of life she was. But what can I say? I'm not sorry I smashed her. At the hospital, she lived for a few more hours until I performed the coup de grace. I don't know how she did it but she realised. She felt I was there! And she wasn't the only one.
At the moment of that impact, a group of adolescents on a nearby ridge started to yell. Frightening. How had they manage to feel it, to feel me? An older man stood among them; he had been a college mate of the girl. When he heard the others yelling he threw himself down and made the sign. Mmmm. He was nice too. Such thoughts. I will pay him a visit one of these days …

If only someone else had heard them screaming … it had been such a dry sky, polished with boreal iridescence. The moon, a huge dumpling, while I listened to their screams. What immaculate moments.
I left the crime scene for a few seconds and veiled like a breeze into the man who'd made the sign. Surprise! I could not stay. He pushed me out. His inner voice yelled so much that I was forced to leave. Yes, I do I like that man. I will pay him a visit for sure.
***
One spring night I walked through the scents of the wood. The trees made a queer rustle but I ignored that. I had seen a house. I drew up to the edge of the wood, emerging out of the nourishing mountain. I saw light at one of the dwelling's windows, and I said to myself: go inside.
I did. Three people sat at a table: a man, a woman and a boy. All I could hear was their greedy chewing, and the boy's eyes were so bright, his face so innocent, that I almost wanted to spare him. Almost.
They started talking. I didn't encourage them too much:
— 'Why are you slurping?' the elder man reprimanded the boy.
— 'Leave him alone, he's hungry,' defended the woman.
— 'Why can't he eat like normal people do?'
The boy started slurping again, and the noise seemed to drive the his father crazy … homemade soup … it was so delicious.
The man rose and snapped the boy. The spoon drew a circle in the air and embedded itself in the wall. The young man fell over backward from his seat, pulling the tablecloth down with him.
You should have seen the man's face. It was the last drop. His wolfish eyes burned with beastly fire.

I started my show. I made them fight; chairs flew through the windows. It Such a beautiful view. In the end, I stuck my fingers in the woman's eyes. What a wonderful cry! A true woman. Rivers of blood flowed from her empty eye sockets.

I left them having fun on their own. I got bored.
So I did my favourite veiled snowball trick at 1200 metres, and took down a passenger aircraft ...
Such exquisite pain.
***
Now I'm looking for a writer. Somebody who writes from the heart; I like creatives because they possess something I too have — a frightful yearning that urges them to go searching for a blaze, a desire that morphs into a need to start fires if they cannot find one already burning…
I'm going to write a book.
I've just found my fool. He sits alone in a room, in a big armchair. He pretends to watch a football game. In fact, he's thinking about something else. I veil in, give him a boost, and give him a brilliant idea — to use a cute pen name — my name. I've never written a book before. This is something new. Perhaps I won't get bored for the next two or three months. I'll write it, publish it and then … I'm going to tear his eyes out. I will have so much fun …
Despite this, the truth is I feel so, so lonely. And this is going to last as long as it has already taken. I am the summer, the winter, the sun and the night. I am happiness and grief, I am grass and desert too. I am life and I am death. I am a traveller, a unique traveller, an accident, an opinion.
I am that, I am.

About The Author
Robert David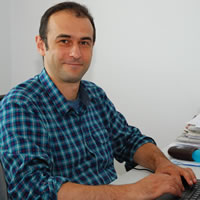 "The Traveller" is Robert David's third short story published in AntipodeanSF. After a long sleep, Robert woke up and decided to translate into English some of his short stories originally published in the Romanian language. As the stars are aligned after rules that humans do not always understand, Robert is present in the 236th issue of AntipodeanSF together with his old friend, Ovidiu Bufnila. Ovidiu and Robert used to publish together short stories in several magazines in Romania. In a TV show where they appeared together, Ovidiu and Robert have been talking about unconventional leadership, after a workshop organized in Bucharest, in 2013.
Robert David is happy to be a contributor for AntipodeanSF. He is looking forward to continue publishing short stories for Australian sci-fi readers. He would be even happier to get feedback about his short stories from the AntipodeanSF readers through his website:
<http://robertdavidstories.weebly.com/>