By Maree Collie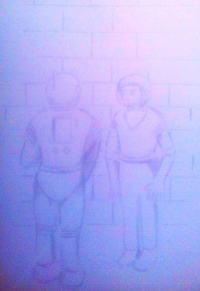 The Mars Pod bounces along the surface until it reaches the designated spot.
'Great landing.'
'Yeah…one outta three aint bad I 'spose.'
'Always the whinge you are, always the whinge…'
'Spose we should check out what those mad shovels have been up ta.'
'The robo-diggers have been collecting rock and soil samples I'll thank you. But it will be good to take a look though, I agree…'
'The limo's ready...'
They board the Landing Craft and set off towards the robo-diggers' excavation site.
The robo-diggers have been prospecting for minerals since their inception at the last mission here nine months ago. The semi-autonomous machines were invented to work individually in a controlled 'team' environment. These autodidactic machines had proved a boon for the mining industry back home.
They top the dune and stop. There in front of them is an enormously high brick wall.
'What the hell…'
'Guess that'd be a design fault. No one told 'em how to deal with the overburden…turned it into bricks they have… clever little shovels…'
They drive the Landing Craft around the perimeter which continues for many kilometres, and eventually they end back where they started.
'What the hell…there's no entrance…'
'Design fault…don't suppose they needed one…'
They drive around the perimeter again, this time more slowly — trying to find some hint or clue of an entrance.
None.
'This is crazy'
'Shouldn't a left shovels in charge even if they are smart…'
The Landing Craft begins to move again, seemingly of its own initiative.
'What the hell…'
'This is way too weird man, weird-ooo…'
The Landing Craft stops.
An entrance materialises in the wall. The two astronauts look at each other, shrug, and make a move towards the entrance.
They get to the threshold and stop. They stare in awe. They look down into a gigantic pit. There before them is a city, meticulously uncovered, framed by huge columns, and wide paved streets. Buildings domed with polished cupolas, and the most delicate mosaics adorning the walls and footpaths. Images of unicorns are everywhere.

About the Author
Maree Collie
Maree Collie loves the idea of Flash Fiction. So much to say in such alittle space. She also dabbles in short stories, monologues and plays.
Maree has had pieces published in anthologies, a play performed in 2018, and a monologue slated for performance October 2019.
She hascompleted a BA in Professional and Creative Writing at DeakinUniversity.