By Russell W.B. Kirkby

Chad was raiding a dungeon in the Forest of Kurgasiax when the historic news of the alien landing swept through the internet.
Just hours later, he pushed his way through to the front row of a heaving, improvised amphitheater in the desert, and as the Alpha-Sidhe burst from their discotheque spacecraft like rockstars, Chad instantly fell in love.
Sarduka, with her blond hair swept back, was a seven-foot Space Elf with fair skin and huge anime eyes. The aliens were endorsing Space-Cola, an elixir that would make everyone beautiful and young.
Chad threw himself onto the makeshift stage, and crawled past the crowd and the security guards to fall at the heels of Sarduka's synthetic, black thigh-high boots. As a show of goodwill (and as a gesture of peace) she offered him a tour of her spaceship. Professing his love to Sarduka in front of the cameras, the Space Elven diplomat escorted him personally onto the Alpha-Sidhe lander and made him Ambassador of Earth.
Chad spent the next six weeks onboard the fabulous spacecraft, and once a week (on a Tuesday), he made an announcement confirming Space-Cola was generally safe. He explained in great detail to his fellow humans how kind the Alpha-Sidhe were, and how they yearned to bring peace to the world. He posted pictures of himself and the Space Elven rockstars enjoying Space-Cola and catching some waves.
Now, gifted with the Alpha-Sidhe's advanced Five-Dimensional Printer-Technology, mankind churned out devices of all sorts. Within months, they claimed they would defeat world hunger, disease, inequality and boredom. This was hailed as The New Golden Age.
But the one thing that humanity wanted, beyond all of this—before any of these noble achievements could be made—was the one thing the Alpha-Sidhe could not possibly give: the recipe for the elixir they craved.

On the seventh week of his tenure upon the Alpha-Sidhe's improbable ship, Sarduka had caught him snooping around unsupervised. He had stumbled upon a laboratory, and although he couldn't decipher the symbols and text, he immediately recognized what it was—a factory for bio-synthetic Space Elves.

Rather than admonishing Chad, Sarduka took pity upon the curious human. She had taken a shine to him and (she had to admit) he was kind of cute in a way. She had explained that the Alpha-Sidhe were a post-physical race who survived the rigors of star-faring by uploading and downloading their minds. "This must be kept secret however," she said. Judging from Earth's own historical records, if the humans found out, they might not understand.

Thus, it came to pass that Chad was never allowed to leave the ship again, except to give supervised talk-show interviews when his weekly announcements resumed. In the meantime, the Alpha-Sidhe registered the Space-Cola Company in every industrialised nation on Earth. They held the copyright to the Space-Cola recipe and its arcane manufacturing process. With limited liability and corporate personhood, they lobbied governments and hired politicians to promote their ostensibly peaceful cause. Slowly, step by step, they insinuated themselves into every aspect of human society, taking leadership positions where they could.
Then, meeting resistance from the Vatican—the Space-Cola supply promptly dried up.

Finally, after a month of despair from the Space Cola Crisis, the Space Elves offered the humans respite. They demanded one single condition be met—permission to mine the Earth's core—in return for exclusive Earth-Rights to the Space-Cola recipe.

They promised they wouldn't take much, and their lawyers maintained that the risks were negligible. The chances of a devastating planetary collapse were infinitesimally small, according to a leading professional. In fact, in order to sweeten the deal, Sarduka threw in a few million signed concert CDs. Each one came with a free Space-Cola hat.
It wasn't long after, with their drilling apparatus working day and night to extract fuel directly from the Earth's molten centre, that Chad began to suspect that the Space Elves were up to something nefarious. Earthquakes had started, and the world had begun to deflate.
Bringing his concerns to his beloved Sarduka, he pleaded with her not to leave Earth. He knew that humans were cancerous, cretinous creatures, like a blight or pimple or a sore, but despite all their shortcomings, shortsightedness and greed, they really had hearts of gold. At any rate, Chad argued, for the sake of a product whose health benefits were dubious—they didn't deserve to have their natural habitat destroyed. Surely there was another way.
Sarduka laughed at his appeals to her emotions, and she kissed him sweetly on the forehead. They had bought the Space-Cola, and now it was over; there was nothing Chad could do but accept. That was that, she had said. It was the end for the human race.
Nevertheless, deep in his heart, Chad knew one thing—he was special—Sarduka had chosen him. In return for his services in obtaining the fuel they had needed, his mind would be uploaded to the spaceship. He and his beloved Space Elven Queen would live forever inside the Alpha-Sidhe Hive where they would journey the stars to the end.
As the spaceship took off and the world finally collapsed, Chad and the Space Elves assisted each other into their hyper-sleep chambers. The ancient sarcophagi molded around them and they would now rest for ten thousand years. At the last moment, Chad, unable to bear being separated from his beloved, clambered into Sarduka's personal vault. Here, he laid down to rest among her beautiful limbs as the transforming sarcophagus morphed closed around him. Then, the sleep-gas overtook them both.
Many millennia later—hundreds of light-years away from the devastated remains of the Earth—the young man finally began to awaken as the sarcophagus turned itself inside out. Instead of the soft, pale breast of his beloved Queen, he found himself entwined in the giant coils of a biosynthetic alien squid.

"What's going on?!" He screamed in that moment.
Why Chad, my beloved, the Alpha-Squid told him, we are off to destroy a new world.

About The Author
Russell W.B. Kirkby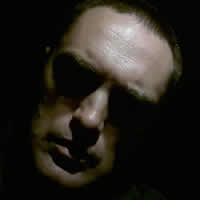 Aspiring writer Russell Kirkby is a Kiwi, living in the USA. He is also the writer and director of a number of short films including 'Cogito' and 'Nova' both of which received funding from the Screen Innovation Production Fund of New Zealand.
Besides speaking mandarin Chinese, Russell's interests lay in philosophy, psychology and the human narrative sense-making apparatus.