By PS Cottier

Loyalty was part of his nature, just as the urge to slaughter wildebeest is part of any lion's nature, and fanging is part of a snake's nature, but his teeth were false, graciously given to him by the Monarch, and they seldom slaughtered more than gruel. Or ale at Yule, the ale of Royalty Downs being known for its unusual, gruel-like qualities.
But it is not at Yule that our story unfolds like origami when a novice has made a fiendish mistake, and uncreases that which should remain creased.
The Most Loyal Servant Scrofulantis was on a rare holiday from his duties which consisted of cleansing the Monarch's chamberpot each morning, and shelling numerous peas. He was sipping a non-gruelly ale with suspicion in the town of Donkey-on the-Yacht when he overheard fiendish dialogue from the neighbouring booth.
'I hear that the Monarch favours the pea above all the vegetables.'
'Such a small vegetable for such a "mighty"' — and Scrofulantis heard quotation marks floating in the air like sarcastic ravens — 'King!'

'Even the smallest vegetable, which is the pea, if one ignores the alfalfa sprout, may contain sufficient poison to uncrown the Head that Wears the Crown. The recipe is being prepared as we speak!'
Scrofulantis was not young. Most servants his age had been ground into fertiliser for the Monarch's rose garden, but he rose, commandeered a noble and magical steed tied up outside the ale-house, which example of winged equine perfection was later found to be the property of the evil Pretender whose plans for Pea-delivered Chaos were just outlined above. How he flew and rode! It was actually quite clumsy and funny, but humour has little place in this brief tale of Loyalty and Vegetables.
Reaching the Palace, Scrofulantis ran as fast as his old knees and slightly younger feet (he was a breech birth) could carry him to the Royal Dining Room. His Majesty was raising the golden, emerald studded Royal Spoon for Peas towards his august lips!
Decisively, Scrofulantis reached towards his own humble lips, removed his false teeth and threw them like an ivory frisbee, or half an ivory frisbee as he only had time to remove the uppers, towards the spoon. Peas and spoon hit the floor, and Scrofulantis prostrated himself amongst both victuals and cutlery.
'Your Majesty! Your peas were poisoned! Forgive my unprecedented teeth!'
Eventually, the Monarch did, and declared that Scrofulantis would be rewarded with new teeth (for many became unattached and lay amongst the peas like peas but whiter) and with his own two-bedroom cottage and an unlimited supply of viscous ale.
After the executions of the Pretender and his fiendish offsider, all Royalty Downs enjoyed a day off. And May 15th was forever after known as The Day of the King's Peas, although commoners called it The Day of Flung Teeth, having a wee joke while totally upholding the system into which they were inexplicably born, and in which they laboured and died most miserably.

About the Author
P.S. Cottier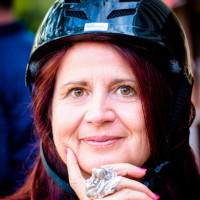 PS Cottier is a poet living in Canberra, who often writes speculative poetry, and occasionally dabbles in prose.