By Kim Rose

Through the woods, feet plunging into murky dark fog, head thrusting through wet leaves and clinging branches. Cold, barefoot and wearing only a very thin shift, she asked her exhausted body for more speed.
This place... This terrifying place. The place she had sworn she would never come again.
Giralda did not even remember how she had gotten here. All she could remember was running.
Cut off from dream, some in-between place where the spirit could feel, a broken bridge between waking and sleeping. Black and dark, thick with mist.
Never had she moved so fast. Perhaps her real body could not. Burning throat, tearful eyes, heaving chest. They felt real. Pain drained through her body, leaving her stamina in the soft, wet undergrowth. The quick movements to look over her shoulder did not distract her feet. Giralda plunged on, recklessly choosing speed over firm footing.
She could hear him behind her now. Insane laughter, echoing, bouncing through the fog. The thuds of his feet, the crash and tear of breaking branches.
A sob tore its way from her throat. She couldn't run much further, yet she couldn't imagine stopping. Denial throbbed through her. She found a reserve of strength and pushed for new speed. Giralda knew it couldn't save her. He was faster, so much faster and stronger.
The only reason he hadn't caught up yet was that he enjoyed her fear. Soon he would grow impatient, and when he had a clear shot he would come for her — putting on a burst of killing speed and pouncing like a big cat.
How could this be happening? She was so strong. To so many others she was so strong. This one though… He knew how to confuse her sixth sense, so it was impossible for Giralda to use it against him. That terrified her.
Even here, in dreams, where she conquered — where her thought artifices took on real touch and taste and could affect the minds and dreams of thousands.
Giralda reached deep, allowing an inner fire to galvanise her mind. Her third eye began to throb. She told herself she could beat him. She need only concentrate. She stopped, breathing in, holding it, feeling a vibration deep within that quickly resonated to all of her cells, bone-deep to surface skin. She reached for her most lethal skill.
In a burst of glowing light Giralda transformed into a white wolf.
Now she could draw on her predatory instincts — something he had even in human form. Her heightened senses detected his quiet step behind her. She whirled to face him. Giralda had hesitated too long.
His eyes, as usual, glowed molten red in his angular face. He stood so tall and lean that his energy felt as strong as a braided leather whip — aged and well-worn but all the tougher for it. Giralda wondered what her energy felt like to him. Better than just good, she thought, to chase her so far and so hard for it. Giralda knew now: he did not just want a sip, a taste, a moment between shamans where magic could be shared and enhanced. No. He wanted to drink her, every drop of her, take her energy and leave nothing, not even spirit.
What would he do once he absorbed her strength? Most likely, attack her disciples. Relentlessly pursue any that had tasted her energy to feast on all that he could find.
He growled, clenched his hands. Giralda growled back, showing her teeth, bracing her forelegs.
She was truly shocked when he lunged for her. She stood her ground — frozen by a bolt of fear. Giralda had assumed he would avoid confrontation with her wolf shape, but she had forgotten that his kind lacked sense.
She snapped her teeth but only scraped his arm as they rolled to the ground. He forced her down, gripping her body as they flipped. Giralda flailed, helpless as he pushed his long fingers around her throat and brought his weight up to her ribs, forcing his knees down. He smiled and chuckled as her ribs began to break.
Giralda's snarling howl wound down into a pathetic human cry as her strength deserted her. She became merely human once more.
He had her. It was over.
In the darkness of the woods a shadow moved. They both looked up and away from their mutual fatal glare, seeing the shadow grow from the surrounding darkness into a tall, slender shape of a figure in a hooded robe moving into the clearing.
The Master. The one spoken of, but never seen.
"This will end now," he said, soft voice vibrating through them.
Giralda lay back on the sweet earth, accepting her fate, feeling the cold, slick leaves and the caress of the mist on her skin.
Her attacker leapt up, arrowing for the shadows.
For Giralda, the end of her and her rivalry was a sweet, warm golden haze that eased away pain and let her feet linger on to Heaven.
For the attacker, the end of his existence was all searing pain and terror as he was rent apart slowly and fully conscious, screaming into Hell.
The Master turned with a swish of his cape and strode back into the forest. His work here was done — the suffering ended.

About The Author
Kim Rose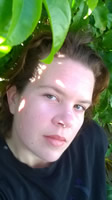 I am an aspiring Australian writer living on a small farm in central west NSW. We run a small animal rescue centre called 'Crescent Moon Lodge and Halfway House' and I self publish books on Amazon about our rescued animals. Our farm and our star attraction — Regina Gina the evil duck queen — have their own Facebook pages for fans. I have a passion for sci fi and fantasy and have a great deal of ideas I'm looking forward to exploring. Thanks for reading!