By Wendy Stackhouse

"It's time Vanessa, no more excuses, you must go today."
Vanessa groaned when her mother finished speaking. If only she'd go away and let her sleep, but there was no putting off the journey any longer. For the past few months, ever since both her sisters left, this had weighed on her mind. When her cousin Alessa had also departed she knew her time had come.
"I know I have to leave, Mother," she said, "but I will miss you. Perhaps in a few more days I will be ready?"
Her mother looked straight at her. "Leave now while you still can. No males live here to carry on our line. Our clan must not be allowed to perish. Your duty is to travel outside to find suitable fathers for the future of the race."
With reluctance, Vanessa waved her mother goodbye and set out on the journey. She had never met her own father, and both of her brothers left when they were old enough to join him. It was the way. They never came back, nor did any other males, leaving mothers alone to care for their daughters.
After her older sisters left she did not expect to see them soon, either. The world beyond their cave swallowed them up. Now she too must brave the unknown. Little wonder the thought kept her awake at night, though Vanessa refused to let her mother glimpse her fear.
Throughout the first day she followed her mother's directions, finding game along the way to silence her rumbling belly. Every member of the clan learned how to fish and capture game — theirs was a life of continued survival from the moment they came into the world.
Males hunted in their own groups, engaging in the occasional battle. When the time came to mate it was always the women who sought out a partner, usually from a distant clan to keep the bloodline pure.
The tales Vanessa's mother told her while she was growing were of courageous sisters facing many dangers before they found what they sought. How unfair, thought Vanessa. She had longed, since a very young age, to have her hero find her. This was so unlikely she grinned to herself, even as she captured a plump Atlantic salmon for dinner.
That evening she found a small cave. She curled inside and slept a dreamless sleep. Next day cold enveloped her and forced her onward. She looked for but never found any signs of either her sisters or her cousin, which did not surprise her. Custom held that females from a clan must travel in different directions.
Vanessa admitted to herself she was in no hurry. She kept going only to get out of the numbing cold. Before she left, her mother promised she would know when she reached the right place, because warmth would replace iciness.
Days turned into weeks, yet Vanessa travelled on, encouraged by a slight warming around her. Once or twice she caught a glimpse of others heading the same way. They were never close enough for her to decide whether they were male, or even females from other clans. The vastness of everything made it impossible for her to catch up with anyone else, so she carried on as she'd been told to, keeping straight ahead.
When the temperature finally changed, she ignored her surroundings and gave herself over to the luxury of heat. That is how he found her, diving in and out of a hot stream as it flowed into the lake. The splash as he joined her in the water alerted her to his presence. Shyly, she turned towards him.
Everything now felt right, and when he reached her the urgency of their coupling swamped her senses. This is what she was born for, she thought, as instinct took over. They clasped each other in the mating dance and rolled together in the water, sending ripples across the surface of the immense lake.
After he broke away and swam off, Vanessa's heart swelled with happiness. She now bore at least a small part of the future. Filled with pride, she rose to the surface. With a shout of triumph, she stretched her head several metres above the water and swam towards the shore. Her massive body settled among the reeds, where she rested throughout the night.
Early next morning, long before the golden eagle opened its predatory eyes, Vanessa, or as her mother fondly called her, Nessie, dived to the depths of Loch Ness. It was time to head back to the cool waters of home to later give birth to the next generation. Someday a daughter of hers must swim between the icy caverns to the warmth of another lake.
Like the salmon who swam upstream to spawn, Nessie's kind needed the warmth and depth of a great body of water to mate. Since time began, the subsurface heated streams of Loch Ness had provided the ideal conditions.
Vanessa never gave any of this a single thought as she swam back to her home cavern. Eager to share her happiness with her sisters, she swished her tail from side to side and sped through the depths. She swam for the hollow that led beyond the Loch and out through River Ness.

Along the many underground rivers branching off the main one, Vanessa travelled towards her home. As she swam, she imagined the smile on her mother's face. Like her sisters before her, Nessie had ensured the survival of her race.

About The Author
Wendy Stackhouse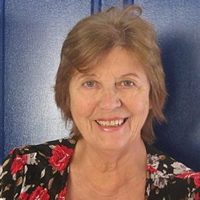 Wendy has published 'Two Old Boots and a Backpack' about her travels around South America in her fifties, and 'A Visual Guide to Publishing on Amazon', written to help others negotiate the minefield of self publishing. She has several short stories published in various anthologies, including the Society of Women Writers of Western Australia, and Azuria #5, produced by the Geelong Writers Inc. 'Beneath Still Waters,' the short story winner of SWWWA Bronze Quill Award in 2016 is based on a subject dear to her heart, Celtic Myths. At present she is working on a novel, also myth-based.