By Matthew Lee

The Real President @realPresident @manInBlack
Let me guess... The Truth Is Out There! Yet another nutjob on the White House payroll. Ludicrous!
Man in Black @manInBlack @realPresident
The most powerful man in the world apparently thinks that the fact his enemies come in many forms is ludicrous. I strongly suggest Mr. President open his mind. E pur si muove.
The Real President @realPresident @manInBlack
Flushing sad little "careers" down the toilet comes in many forms. WORST EVER presidential advisor. Hasta la vista, baby!
One morning, The President of the United States awoke to find himself in a desert wearing only his underpants. Dirt and rocks and dunes and more dirt. Just like in High Plains Drifter. Rushing wind and a plane high overhead. Jutting his chin, he squinted at the huge sky and watched as the plane vanished into haze. No one around. The smell of hundreds of miles of nothing. He looked down at his body, pale and freckled and semi-naked and shivering on the thirsty rock. A powerful body, no doubt, capable of much. But stripped of its modern-day weaponry — its loud, quick power to mobilise and rally — he was vulnerable. As vulnerable as any other man who had woken up alone in a desert with nothing but a pair of damn underpants. My instincts are my only weapons in this place.
Waking up in the middle of a desert, after having drifted off next to the First Lady among eiderdown and silk, had not come as a total surprise to the president. Your enemies come in many forms. He hugged himself as his light ash blond hair stood up in the cold morning breeze. Trust your instincts.
"Mexico," he said, as he looked at a pile of camel dung. "I'm in Mexico." He said this with absolute one hundred percent certainty.

He tightened his jaw and scanned his surroundings more closely. Bronze rock, paper mountains, dunes smeared with shadows, and far in the distance along a low gully, a hazy crest with a hint of vegetation. A flicker of movement — a human figure. A small girl. Running away from him. She had been watching him and then run off.
A decision. The president straightened up, put a beaming smile on, and started to walk through the Mexican desert towards where the girl had been. He considered ripping his underpants to make wraps for his feet, then thought better of it. Unlike A Fistful of Dollars, there were no chirping crickets.
***
The president awoke as if dropped in a pool of cold water from dreams invaded by his White House staff, wide dark tunnels, horned burros, strange sing-song language, a cascade of outraged tweets ready to reel off.
A small girl sat beside his bed. She looked old enough for Friends but not old enough for Gossip Girl. She had long hair tied back, wore an orange shawl, and was pretty without having any remarkable features. She laughed with her eyes to see him awake.
He was in a big round room with no windows, simple furniture and two other beds with patterned crimson sheets. One of the other beds was occupied by what seemed to be a man. It was too dark to see properly. The girl's father, perhaps. The room was like Khal Drogo's place but with coloured tapestries, orange straw mats, wooden beds, the smell of incense and stew, a statue of Buddha. His body was stiff and his feet hurt. Looking at the girl, he rubbed his concave stomach, ate an invisible crispy chicken quesadilla with emaciated hands, drank an invisible Pepsi, then gave his best zipped smile. She moved off to one side and came back with hot dumplings and stewed meat. "Muchas gracias," he said. More smiles.
The president managed to sit up. He felt odd. He decided to try to stand up, but his legs wouldn't respond. That was worrying. The girl propped him up with some cushions, and he ate sitting up in bed. She took care of his washing and his toilet and did not seem embarrassed at all by it.
Cosy blankets. Fever. Dumplings and meat. Trembling and cold sweat. More dumplings and meat. Herby licorice drink from a terracotta pot. Beans and rice. They were good. The girl sang to him, played music and danced, showed him her few possessions — simple musical instruments, paper animals, coloured feathers. They communicated via gesture.
Under the sheets, his legs seemed a bit on the thin side. He tried to move them but was frustrated. When he got back to civilisation he would hire the best leg doctor in the country.
To take his mind off his legs, he made more effort to communicate with the girl. He enjoyed her company and enjoyed teaching her simple words. He was surprised by how quickly she picked them up. He tried to explain to her about his legs, and she appeared to understand. More herbal drink. He felt disorientated. As her language developed so quickly he had the most peculiar feeling of having spent a long time with her. It felt like only days, yet she was creating full sentences already with accurate pronunciation. The president was intrigued.
Lying awake, wondering what hashtag the entire world would be using to talk about his disappearance, the president was able to make out the person in the other bed. It was a Caucasian man of advanced years with light-coloured hair. The man lay facing the ceiling. The president put on his alpha face and stared, as if daring the other man to make eye contact.
***
"I've never met a kid like you before."
The girl said nothing.
The president had thinking about other people in his life. He had been thinking about the search operation that must be going on, the legions of forensics tracing his last known movements, #whereIsThePresident, his family hounded by the press, his face plastered over all the newspapers and on every TV channel, the first lady in a world of suffering, meetings postponed, papers being signed by the vice-president in his place, his kids, his days at school, his business associates.

This peasant girl, who didn't know him from Adam, had shown him true human warmth and kindness. None of the other people in his life treated him like this. It was as if they all behaved in function of what they wanted from him. He felt he had finally met a genuine salt-of-the-earth human, untainted by the sins of modern world. He felt it was right to thank her.
"You are the most human person I have met." He said this with absolute one hundred percent certainty.
The girl stared at her hands. What was that on her face? Bashfulness? Humour? Sympathy?
"Who is that man? In the other bed?"
"Another," said the girl.
The president grunted. "Why can't I get up?"
"Your legs have been incapacitated."

"Incapacitated?"
"Incapacitated."
He gazed at the elaborate tapestry above his bed. Coloured dragons flowed around motifs of white flowers. Interwoven strands of wheat or some other grass dyed purple made a decorative border.
"You use words that I didn't teach you," he said.
"Limitations are but artifices of the mind."
"Who are you?"
Before the girl could answer, there was movement from the other side of the room. The man in the other bed stood up. Medium build, tall, authoritative, good-looking for his age. Light ash blond hair. The president gaped as he recognised the man standing there before him. It was himself. Right down to his black C&A underpants.
"Are you supposed to be me?" The president made his incredulous face.
The fake president nodded energetically.

"Totally unconvincing!"
The fake president put his head on one side and arched his eyebrows.
***
"Start talking, Barbarella. Who are you?"
"I come from another place."
"Stupid kid. So, do you know who I am?"
"Everyone knows who you are, you said. More famous than nacho cheese Pringles."
"Damn right too. So do you know who I am or not?"
"Yes. We know exactly who you are."

"Then bad news for you, squirt! You know how much goddamn trouble you're gonna be in? You think your padre spanking you for not doing your homework is bad? The biggest, baddest army in the world is about to show up on your doorstep. Boom!"
"It is vastly improbable that any Earth agent shall find you here."
"And where exactly in hell is here?"
"You're in Mexico." Her lips formed a straight line. "That's what you said."
The president put on his hard-boiled Sam Spade face and locked onto the girl's eyes. Now that he thought about it, the air in the room seemed different from Earth air. Gravity seemed different. Even time seemed different.
"You said you were absolutely one hundred percent sure you were in Mexico." Her face was serious again.
"I know. I know I said I was absolutely one hundred percent sure I was in Mexico," the president said. "But where am I really?"
"Really?"
"Really."
"Not in Mexico."
The president strained but he was rooted to the bed. It was like Dwayne Johnson was sitting on his legs. The presidential clone dressed there in front of him, and even dressed like he did. White shirt. Dark blue Brioni suit. Trousers too baggy. Jacket too boxy. Orange tie too wide and too long. Lapels too wide. Gold Geneve Chronograph watch. Black Oxford shoes.
"What is that goofy-looking clone going to do in my place?"
"Divide et impera."
"Never seen it."
The girl's imperturbability wavered. "Your clone will be charged with promoting conflict among the people of Earth. In doing so, the groundwork for the infiltration phase of our operation will be facilitated."
"Wrong."
"Wrong?"
"Wrong!"
"The path to the truth is only revealed by challenging the truth. Please elaborate."
"You want Mr. Bad Hombre over there to help you conquer Earth by promoting conflict? Let me tell you something about Earth people, Tinkerbell." He leaned forward. "Conflict is the only thing that keeps them together. What would those ignorant SOBs talk about if they agreed on everything? Let me tell you, brat. Nothing! That's what."
The girl got up, walked to the door, opened it and looked out at the space between the stars. When she spoke again, she appeared to be quoting something.
"You must be prepared to challenge your own notions. If you are unprepared, your journey will end before it begins."
"Wrong again."
"Wrong again?"
"Wrong again!"
"Today I see I shall learn many things, for which I am grateful. Please elaborate."
"Never challenge your own notions. Only a coward changes his mind, even if he knows it is wrong. Call yourselves a super-advanced race? Super-sissies! Once you start to doubt, they tear you open like a can of beans."
The girl said nothing. She appeared to be deep in thought.
"And talking of beans, amiga, do you have any more of those frijoles? They were good."
The girl looked up sharply and suddenly seemed animated, like there was a new understanding and a river of relief rushed through her. At her command, the clone went back to his bed and lay down. The door opened, revealing a scene familiar to the president. The warm winds of Washington breezed in.
The girl held open the door and waited.

About The Author
Matthew Lee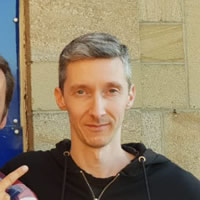 Matthew is an English teacher living in Spain. His love of teaching and writing was kindled by his strong interest in Spanish. Language, he feels, is much more than a means of communication — it contains culture and history and much more. For him, using a second language in everyday life is like seeing the world with a new pair of eyes.
Matthew writes:
"I'm a lifelong fan of comedy writing, comedy SF in particular. I've always wondered why there isn't more of it around. The reference is probably Douglas Adams' Hitch-Hiker's Guide to the Galaxy series but I can't help feeling it could have been better than it was. I think some of the best SF is comedy — it's almost like it's a natural pairing. As a case in point, Red Dwarf often trumps the object of its parody.
I'm a big fan of Iain M. Banks and Arthur C. Clarke, but my favourite SF writer is probably Ray Bradbury — there's always a glint of mischief in his stories that I really enjoy. "