By Jack Beltane

Adam is a loner. He's learned the hard way not to trust fledgling communities. Time and time again others have robbed and betrayed him, sometimes almost killed him. So he hopes nobody lives here. He's running out of options. He pushes open a door, treads softly forward, pauses just inside, and stares at what was once a lecture theatre, wondering yet again whether humanity could ever rebuild its glorious 1999 technology.
Adam leans on the edge of a desk, pondering. Twenty years since the Y2K bug eliminated human civilisation.
Twenty years of dust covering campus remains.
The end was not far from the begin yet the beginning was from far from the start by thirty years is scrawled over what was once a lecture dais. Broken chairs and textbooks are scattered across the dusty floor as if someone once mounted a desperate academic challenge to the impending catastrophe.
Not here. Adam turns and traverses a long curving hall that stretches beyond the limits of his vision. Designed this way he guesses to encourage academic thinking. Challenging students to look beyond their horizons.
Ironic, he thinks. The world is now full of horizons. Fires and decay have destroyed so much. Now everyone can see over the decaying, eroded ruins of apartment and office towers. Wildlife and plants easily transform artificial rock back into a primordial vista.
Above Adam, little remains of the hallway roof except curved metal tubes draped with perspex shards that give but a hint of its former shape. He keeps walking until he reaches the end of the corridor.
The dirty wall ahead before him is marked, "G Block", and it is inset with a doorway in which hangs a partially-open door bearing the word 'fire' just legible through the grime. Adam edges inside, stepping over ferns growing in a woven fibre doormat.
Benches run the length of the room. Bunsen burners sit idle. A periodic table is peeling off the wall, and chemical jars line shelves along its back wall. This is a windowless room, apart from a thick safety-glass strip in the heavy fire door.
Perfect. This lab is perhaps secure enough for a safe night's sleep. Just in time, since dusk is nigh. Wary all the same, Adam pushes a large oak desk against the door — just in case the campus is not as abandoned as it seems. He then strings his simple hammock between two of the stone laboratory work benches, and finally sets up a small camp burner in a sink recess.
Soon, the only sound Adam hears is beans bubbling in a small tin can. But before too long, while he eats, the sound of feral cats roaming the campus and fighting dominates the evening air.
Those cats. They are just like Adam — searching for life. Nevertheless, he hopes his cooking tonight does not bring unwanted guests...

About the Author
Jack Beltane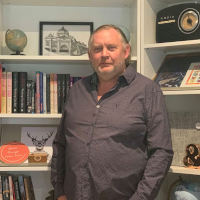 Jack Beltane is a resident of Melbourne, born 1973 in Perth, grew up traveling the country following his navy father on various postings.
Growing up with Doctor Who, Lost in Space, Twilight Zone and Star Wars all influence Jack's writing style. He started writing at age of 13, choose your own adventure books, poetry by age 17 and retired from writing at age of 18 to follow a career in the military and railways, which both involved travelling interstate to find work.
Fast forward 24 years to 2014, fiscal crisis at work meant poverty or study, enrolled in University of Tasmania, studying for the next three years a Bachelor of Arts History major.
Moved interstate again in 2017, Jack began in 2018 a Bachelor of Arts Writing Major at Victoria University. The two study fields of history and writing have seen Jack write across many genres from Sci Fi, poetry, non-fiction (lyric essays), playwriting and memoirs. You can find out more at his website: <www.jackbeltane.com>.