By PS Cottier

This is no vampire, scared of the sun, afraid to expose itself to day. The Blood Parrot warms itself gladly, sucking in rays as avidly as it does gore. Or almost as avidly, for there is no raven as ravenous as this most gorgeous creature, all crimson except for the beak, which is said to be white. Twitcher that I am, I have never seen the beak any colour but red. However, I cannot say if that is the cover of ichor, staining an original white, or the hue of the scimitar beak itself.

The Blood Parrot traditionally nests in eucalyptus trees, burrowing into hollows, worm-like and secretive. But lately they have been weaving nests in the air. Huge nests, formed from loops of intestines, intermingled with an occasional placenta. Their nests are even joining around the equator, encircling the earth itself with an offal ring. We are becoming a second, but considerably more rancid, Saturn. How the nests hover over the ocean is a mystery to us all. The nests winnow like hawks.

Let it be doubted, there is an intelligence to the Blood Parrot which puts any African Grey to shame. Just yesterday I observed a pair of the finest German binoculars hanging from a ring-nest, and recognised the equipment of my dear friend Kurt, a fellow ornithologist. What other bird would think to punctuate its weaving with such a decoration? Who would have thought that a bird could engage in pointed irony? I can not tell what items Kurt had contributed to the nest, apart from the expensive binoculars, for even one's best friend's internal organs are indistinguishable when displayed amongst those of total strangers.

The Blood Parrot is breeding in unforeseen numbers, enjoying the warmth of the new climate, and wrapping its ring-nests around the Earth like so many throbbing hula hoops. One no longer needs to wait patiently to see these birds; they have become the watchers, and the collectors. They are as hungry as sharks, but blessed with cunning. Hides are no longer erected to see the birds, but rather, to stop them seeing us. They have strewn the sky with pulsating red, recreating the earth in their own image.

Their eggs are like rubies; their cracking (and I hear it now) severs the air like a chainsaw.

About The Author
P.S. Cottier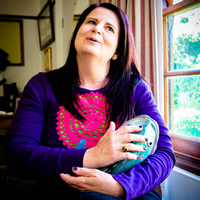 PS Cottier's latest book is a pamphlet called Quick Bright Things: Poems of Fantasy and Myth.  It can be ordered here.