By Eugen M. Bacon

'SOMEONE'S COMING,' whispered Junkie. He ducked into a bloomy bush that licked at peeling moccasins thieved from a drunk months ago outside Reefers.
'Shush it,' said Art. The cold of the device in his hands … nicked from a tourist from Earth.
Earthlings, most gullible: holding their maps, unguarding their rucksacks, sticking their devices out of back pockets …
the device initially trembled and wailed, and flashed messages. Then it ran out of juice. Still, it served a purpose.
He felt charged tonight. That Acapulco gold they'd smoked was nowhere near the real thing, nothing like angel mist. But better than none. Stank like shit, still took you places.
'Just a doll with a kid,' whispered Junkie.
'Shut it, airhead.' Art's mind worked on a plan. 'Stay,' he said.
Only visiting Earth folk took strolls this time of night in this part of town. And she was pushing a wheeler.
***
Metres away, security guard Sherrie Porter wheeled a pram. Not every day did a single mum win a lottery, let alone one awarding you the trip of a lifetime light years away. Didn't matter this world was awakening from some terrible winter or scourge. Rebuilding was everywhere: construction sites, half-baked cityscapes rising from ashes. No matter the surround, the galactic getaway was remarkable. If someone blindfolded you and brought you here, you'd never tell different: folk looked human, spoke human.
Only yesterday Sherrie stumbled upon this natural park isolated from wasteland. None of the dishevelled starkness of a reconstructing planet ravaged by war. Banging, clanging, drilling, whirring—tools and machines everywhere in a world devoid of colour. But in this park silence and a splash of brilliance: flowers like heart-drops, like the bellies of bees, like tiny fluorescent dragons, kissy lips, humming birds, upside-down umbrellas … the park reminded her of the botanical gardens she and Earl strolled back home before he discovered she was pregnant and went AWOL.
This trip stoked the realisation how kettled her life had been. No wonder she'd swooned in the arms of the first goon that poured her a grin. Now she smiled softly to herself, as twin moons lit her path. An orange horizon marked the end of the park and the start of the stark city beyond the empty park.
Junior stirred under the blanket.
***
Shrubbery rustled as Art peeled out.
'But …' said Junkie.
'But nothing. I said stay.'
'The kid, man,' mumbled Junkie to his shoulder.
***
A draught hissed past Sherrie's neck. Then a hard press into the small of her back. She stiffened.
'Squeal and you're dead,' a voice said from behind. 'Turn real slow.'
Now she faced him. An unshaven teen with dreadlocks, a pockmarked face, a chin grey as emery. Yellowed eyes burning like coal. He pointed what resembled a gun inside sleeves. A dragon and genie tattoo snaked along his free hand.
Behind her, the pram shook. A wail cut the air.
Art beckoned Sherrie with his gun. 'Slide from the wheelie.'
She saw the glint in his eye, and took a step back.
He moved toward the baby, the weapon never leaving Sherrie. The crying became a babble. 'Da da da da.' A soft moon face gazed at him, a wide-eyed stare designed to melt a heart. Fat legs kicked, kicked a fleecy blanket sprigged with daisies and butterflies.
A bag matching the wheeler swayed from its hook like a pendulum, charged seconds ticking.
Sherrie's swirl and cry were instinct. She lunged at Art. Her hair fell from its ribbon, big hair that had a heartbeat. It blinded Art as they crashed onto grass. They struggled for the weapon. Art won. He kicked her off with his boots, lost his grip on the stupid thing, dropped it to the ground. He made to rise.
She grabbed him from behind, muscled him down. 'A mobile phone? Is that the best you've got for a weapon?' Thin nails formed streaks on his skin.
Where's Junkie? his wild thought, a burning trail on his face. 'Unhand me, bitch!'
She punched, kicked, stomped his scar-face with her heels. He leapt. She grabbed at his knee and caught air. He shoved her as he sprang, planted a blow to her shin. She fell. He grabbed the bundle from the pram, dove and surged into the wind. Behind him, Sherrie's enraged cry.
He gunned through the park, weaved through trees against a bitter gust of wind. The unlaced tongue of his moccasins lapped on something. His fall was scattered, limbs everywhere. He sat on the ground, wheezing.
Someone tumbled into him from behind. 'Hey, dog.'
It was Junkie. Saggy trousers, yellow boxers sticking out.
'You got me there a big one,' panted Junkie. He eyed the bag. 'Gotta hand it to you.'
Art sucked his teeth. 'Bitch fought like a trooper.'
But all was well now. He unzipped the bag, pulled out a rattle, a dummy, a handful of cheesy clothes.
'Where were you, punk?'
Junkie shrugged.
Art's fingers closed around stuffed paper. He withdrew a brown envelope, grinned. 'You owe me the moon for this.'
'You ripper!' Junkie hunched beside him. 'Go on, better be some boom.'
'Yeah, mate. No more angel dust, hey?' said Art.
Junkie's breath brushed warm on Art's shoulder. 'You done good, mate. You done good.'
***
Sherrie leaned into the pram, fondled Junior's tiny moon face. He cooed.
'Joke's on them, buster. Wait until they find they nicked a soiled nappy,' she said.
***
Somewhere in the distance, a dog howled.
Art and Junkie slid under a melancholy tree denuded of leaves, under the gaze of an owl.
Art tore open the envelope, found another wrapping. He ripped it open. A piece of towelling or other absorbent material. It was wet. A stench filled the air. Art smiled at the sight of what was buried inside.
Junkie took one glance at a load of creamy baby poop and grinned. Human baby shit made the best El Diablo; sold steep in the black market.

About The Author
Eugen M. Bacon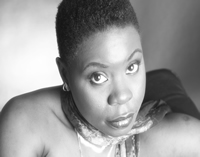 Eugen M. Bacon has published over 100 short stories and articles, and has a creative non-fiction book out with Palgrave McMillan in 2017. Her stories have won, been shortlisted, highly commended, commended and long-listed in the Copyright Agency Prize 2017, Fellowship of Australian Writers (FAW) National Literary Awards 2016, Alan Marshall Short Story Award 2016, Lightship Publishing (UK) international short story prize 2013 and Fish Short Story Prize 2013/14. Eugen's creative work has appeared in literary, science fiction and fantasy magazines and scholarly journals worldwide, including Award Winning Australian Writing, AntipodeanSF, Andromeda, Aurealis, Horrified Press anthologies, Meniscus, TEXT and through Routledge in New Writing.