By Nicholas Sheppard

Susan arrived home to find David unwrapping a large-ish box in the living room. "What's that?" she asked.
"It's a utility robot," said David.
"What does it do?"
"It feels."
The thing emerging from the packaging did not seem to have any hands, or tentacles, or other appendages with which it might feel in the sense that Susan had initially supposed. She stood still, peering a little harder at the robot in the hope that she would find some explanation. Then, it occurred to her: "As in, experiences emotion?"
"Yes. It has the best feeling in the world. It's completely satisfied with life."
"What's its life?" The thing emerging from the packaging did not seem very lively, either.
"Its life is to feel satisfied." David indicated some writing on the now-discarded box, which Susan supposed to explain this philosophy. By now, she could see that the machine took the form a vertical silver-grey cylinder, surmounted by a white dome. The dome rose to about the height of David's shoulders as he sat beside it, and the whole contraption resembled nothing so much as a rubbish bin.
"And this benefits us how?" said Susan.
"With this, our household will contain at least 50% more satisfaction than before!"
"Are you suggesting that you're unsatisfied?"
"Oh no, not on the whole. Of course it'd be nice not to have to mow the lawn, or chase customers at work, that sort of thing. But this baby is perfectly satisfied with its life, perfectly happy with every aspect of its life." David patted the machine's dome with apparent affection. The machine, which was not turned on, did not react. "How can more satisfaction be bad?"
***
When the machine was turned on, a few red and green LEDs glowed at the top of the cylinder, just below the dome. They did not blink. The machine was in just this state when Susan found David kneeling before it the following evening.
"How do you know it's satisfied?" she asked.
"They've done tests. It's passed the Turing Test, it satisfies Integrated Information Theory, and it aced the Life Satisfaction Survey."
"I see," she said, without conviction. "Does watching it make it more satisfied?"
"It doesn't need me," David said. "But I think I can learn from it."
"Does it teach?" Susan did not perceive the machine to be doing very much teaching.
"Only by example."
Susan stared a little longer. "You've got the LEDs all wrong."
***
David was before the machine again the following evening, this time sitting cross-legged with his head bowed, resting his chin on his hands. Susan said nothing. On the third night he was trying the lotus position, but on the fourth night he was back to kneeling. The machine had not changed.
"What are you learning?" asked Susan when David rose — a little unsteadily — from his latest sojourn before the machine.
"It's hard work."
"The kneeling, or the learning?"
"What I need to do."
"What do you need to do?"
"I need to understand the way the machine feels, and take that feeling for myself."
"Is it feeling if you can make yourself do it?"
"Why shouldn't it be?"
"I just thought that that was the definition of feeling — something that arises within you without conscious explanation. Otherwise it'd be a thought. And, anyway, why should you be able to feel what the machine feels? You're not the machine."
"I can do it," he insisted, and went to shower.
***
David did not go to work the following week, preferring to spend more time with the machine. He had brought it into the living room, where he could watch it while seated on the comfortable armchair normally used for watching the extra-large television in the room. The television was off, but the machine was on.
Susan frowned at the arrangement whenever she passed by the living room, but it was not until the third day that she decided to challenge her husband. "You'll have to go back to work one day," she warned him.
"Do I? The machine can be satisfied without going to work."
"You aren't the machine."
***
But David continued into the fourth and then fifth day of leave. On the fifth day, he did not eat, leaving Susan to glower at him, sigh, and put the meal into the freezer in case he wanted it another time. But he did not touch it the next day (which was a Saturday, on which he did not have to work), nor on Sunday. The last thing Susan heard him say was "I'm nearly there!"
Susan found David lying on the armchair on Monday morning, his head flopped back on the head-rest for want of any effort to hold it up, and his skin dry and pale. He was not breathing. Susan dragged him onto the floor, kicking the still-glowing machine aside, and began resuscitation. But she quickly perceived that it was hopeless. She sat back, with her hands on her hips and her legs folded underneath her body. From this position she stared at what was left of her husband, and then at the machine that had brought him to this state. She couldn't blame it, she supposed, and her husband did have such a wonderful smile on his face.

About The Author
Nicholas Sheppard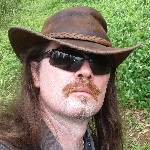 Nicholas Sheppard is an Australian software engineer and academic, currently teaching in Singapore. He has published numerous scientific articles in venues with very serious names, several non-fiction pieces for a less serious mediaeval re-creation group, and occasional pieces of fiction in AntipodeanSF.