By Justin O'Leary

Jay had no proof the food would grow in this new land — only theories. Once their first-year supplies ran out, they were on their own.
Kade raced past him with his arms outstretched. 'I'm a shuttle, Daddy.'
'You are, but don't fly near the tomato section. Mum's looking forward to those.'
'I don't like vegetables.'
'Is that so?'
'They're yukky!'
'Well, you've been eating them all along; Mum's been hiding them in your pies.'
Kade stopped. 'That's not fair!'
'You like pies, don't you?'
Kade stared at his boots. 'I guess so.'
'C'mon, I'll race you to the end of the row.'
'Okay.'
They both ran, Kade fast while Jay jogged; their weighted clothing and shoes compensating for the lower gravity.
Jay glanced over at the Mission's shelter as Cali waved at them, her apron billowing in the wind.
'I won, Daddy.'
Jay pretended to struggle for breath. 'You're too fast for me. Look there's Mum. Go see what she wants.'
Once they completed their three-year contract, they'd have enough credit to follow their passions and Kade would be happy anywhere. With the reinforced magnetic field and the nitrogen boosters, the atmosphere continued to thicken. His temporary lung implants made breathing similar to Earth.
Jay sat down on the red soil and detached the foldable tablet from his forearm. He tapped on the crop monitor software. The genetically modified seeds allowed him to check on each plant. Before leaving Earth, scientists had tweaked the seeds' immune system to increase growth speed.
He looked up at the tan sky and the thin clouds. One day they would have Earth-like clouds producing rain.
He had read about the Titan pioneers of the past and was glad he chose this distant planet instead. Living inside a dome no matter how big gave him the creeps. Here he had space and serenity.
Kade bounded back and sat next to him. 'Mum said a package has arrived.'
'Okay, I'll check.'
Jay tapped his tablet to bring up the mail.

'Oh, it's just political news, nothing to worry us.'
Kade scooped up a handful of the planet's soil and let it drift down and away with the breeze. The lower gravity meant things fell at a different speed mimicking slow motion.

'I don't miss home, Daddy. '
'What about your friends?'
'Their duplicates here are the same aren't they?'
'Yeah, but artificial, they're not exactly the same.'
'But they reprogram new information every night and they grow, so it's like they're here.'
'Yeah, although, if you spoke to your friends back home, you might notice slight differences.'
'How do you know I'm not a duplicate?'
Jay smiled as he returned to his tablet. 'I think I'd know the difference.'
'Yeah, me too. I'm going back to help Mum cook dinner. Bye.'
Kade scurried off to their pod and Jay sat pondering if his real wife and son would be any different if they were still alive.

About The Author
Justin O'Leary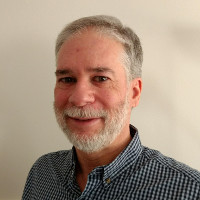 Justin O'Leary is a writer of fiction and non-fiction as well as a husband, father and grandfather in Toowoomba, Queensland. His work has appeared online at various sites including The Quill Magazine, WritingAustralia.com eZine and EzineArticles.com. His work has also appeared in print in the Avant 2011 anthology, the FAWQ Tales from our Verandah anthology and in Battered but not Beaten — Places, People and Perceptions of the Toowoomba and Lockyer Valley 2011 Floods. He is currently editing his two novel-length speculative fiction manuscripts.