By Alexander Nachaj

Georgetown, November 6th. John 47 sat hunched over the paint-covered canvas. His hand worked vigorously, dabbing thick blotches of orange, yellow and grey into the unfinished fire. Leaves separated from sky, sunset from horizon. In an hour, it would be complete, but an hour was more than he had.
The switchboard above the incubator glowed green and John 47 knew the year had come to an end.

***
The naked man stepped from the sliding doors and out onto the cool granite floor. Embryonic mists danced around his legs like steam from a sauna. His forehead and brow were as plain as his hairless chest. But in the eyes and the curve of the jaw, John 47 could see his mirror image.
"It's cold," were the newcomer's first, obstinate words. He brushed away goose bumps on his forearms. "Why isn't the heating on?"
"We keep it down during the autumn," replied John 47, frowning as he wiped his hands on a rag.
The newcomer grunted. His eyes coasted to a pile of clothing. He rummaged out a pair of joggers. "Which number am I?"
"48."
"Ah." He dressed.
John 47 eyed him. "One year already..." He fumbled for words, wondering if there was even a point. "You're probably eager to take over."
When he was dressed, John 48 appraised his predecessor's outfit.
"That's a nice cardigan. Are you wearing it to Rest and Recycling?"
John 47 shrugged. "It's chilly outside."
"Fine." John 48 glanced around the spacious luxury loft he would soon be calling home. Dirty dishes, unwashed laundry, and incomplete easels lent the room an air of claustrophobia. "The place is a mess. What were you doing all this time?"
John 47 stepped aside, revealing the landscape he had been working on.
John 48 approached the iridescent easel. "So, we're an artist now? Whatever happened to the upward momentum at the agency?"
"We made the change... some time back. I believe it was John 32. It was necessary. Marketing lost its hold on us."
John 48 pondered the unexpected career change. He wasn't pleased. "So you're saying even if I return to the old job, I'll have to start from the bottom again? I can't believe the past fifteen iterations were okay with this."
"There have been a few... dissenters, but in the end it was the artist who prevailed," said John 47.
John 48 sighed. "I guess it will make sense in time."
"Unfortunately, there's never enough time."
"What are you talking about? We have all the time in eternity."
John 47 took a deep breath. "We say that, and then the year runs out."
"I don't need a year. And I'm giving up this art nonsense." His hand brushed the edge of the canvas. "The memory sync will fill me in with the rest once you decommission."
"Unless," began John 47, "I spend a day or two bringing you up to speed? There's plenty we could accomplish together. Perhaps you'll see why we've continued down this path."
John 48 shook his head. "The contract is explicit. One unit per year, and one year per unit. I doubt things have changed."
"They haven't." A pause. "How about you complete the piece with me?"
"Don't be like that," John 48 said. "A random inspector could stop by, and where would that leave us?"
"You could hide."
"Where? I can't go back into the incubation unit." The doors had closed. The light was red and the countdown beside it had already begun. "You need to go so I can get on with our life." He crossed his arms.
John 47 frowned, frustrated to be at such predictable loggerheads with his successor. He wanted to reason with him, to get John 48 to see the light, but he knew it was no use. He had been just as stubborn the first moment he stepped out of the incubator all those years ago. John 48 was hardly exceptional in that regard.
"Very well," John 47 conceded, "but there's something important you should know." He turned his back and placed his hands atop the little wooden work stool. He took a deep breath.
John 48 rolled his eyes. "What now?"
A slight pause. "I'm not John 47. And I'm not going back to marketing."
John 48 could only reply with a puzzled expression. There wasn't enough time for anything else. The stool was off the floor and in mid-swing. It cracked him across the temple, knocking him to the ground. He never felt the sour rag as it pressed against his mouth.
***
The inspector arrived the following evening. After John invited him into the living room, the uniformed man wasted no time getting down to business. He pulled a tablet from his pocket and read the report.
"We pulled him from the Canal last night. He must have…" A slight pause, "fallen on the way to Rest & Recycling. We were too late to salvage him."
"I see."
"Fortunately, your insurance covers damaged and lost iterations." He pulled up the insurance files and placed the tablet on the table between them. "You'll be reimbursed in full, but the premiums will rise by this amount." He pointed to a number at the bottom of the page.
"I can afford it."
The inspector cleared his throat. "According to our records, your iterations have a higher than average rate of attrition. This could suggest a fundamental degeneration in your emotional banks. If it pleases you, the company could restore your files to a previous, more stable build. For a minor fee, of course."
John signed the documents and handed the tablet back to the inspector.
"Maybe next year."

About The Author
Alexander Nachaj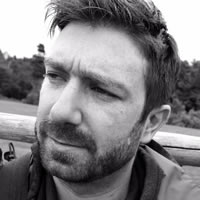 Alexander is a Canadian author, university lecturer and researcher. He enjoys taking long drives out into the wilderness (of which there is no shortage in Canada) and hopes to one day own a small house by a big lake. Recently, his work has appeared in Mad Scientist Journal, Right Hand Pointing and Shotgun Honey.