By Kim Rose

"Is this the place?" Karetta whispered.
"Yup," Gerry said softly, bringing his van to a stop. He pulled it in under a hanging tree, off the edge of the dirt road. This was where he had been rolled a number of times in the last three weeks.
Gerry knew what he'd been doing wasn't legal — he'd been selling goods under the table. Trimming off the top, only the amount covered by insurance, so the company wouldn't lose money.
There were people who needed it, people who weren't recognised by the system. He was just trying to help them.
Medical marijuana was big business. But now that he was getting rolled by three random lug-heads who ripped him off every Thursday night, he was in trouble with his boss, his on-the-side middle man.
Karetta drew her eyes across the sky, spangled with stars, but no moon. "That's perfect," she said, "a new moon."
Gerry cast his mind back a couple of hours. He and Karetta in bed, discussing his concerns about this midnight run. "I'm going to take care of these guys!" she'd said.
He'd laughed.
She'd persisted in her womanly way, and here they were.
Karetta turned in her seat and looked at him, dark hair curling down to her waist, eyes intense and glinting even in the moonless dark. No woman had ever excited him like she did. Something in her presence, something dangerous and exciting that permeated her aura like a scent.
"No matter what you see," she whispered, in that throaty, sexy voice, "You don't interfere. Stay in the truck, at all times. I won't need help. I'm going to make sure these guys never bother you again, my sweet." She leaned over, grabbed his shirt, pulled him in, and kissed him: her lips, so warm. She whispered against his mouth, "I'm going to show you something about me tonight, my love. A secret. Something no one knows. I hope you love me —" Her voice caught. Her head bowed. He glimpsed a tear slip past her spiny defences.
She often got like this. He didn't know what to say. He didn't know much about forever, only that he didn't want to lose her.
"It's almost time," Gerry whispered.
Karetta straightened up, her face drawn, serious, as if approaching a guillotine. "Stay in the truck," she said firmly, slipped out and closed the door behind her.
He heard the roar of an engine. They were coming.
She walked forward from the shadows and stood in the middle of the track. Okay. So she wasn't even going to hide and sneak up on them. No element of surprise. Perhaps just being an unarmed woman was the surprise.
Is my girlfriend a ninja? Some special ops reject?
Karetta began to undress.
Gerard couldn't believe his eyes. "What the holy fuck!" he exclaimed under his breath. He couldn't see much — no light, no moon — but there was enough light to make her out undressing and tossing her clothes off to the side. And she had actually said something earlier about wearing old clothes. He'd thought she just expected them to get dirty...
She stood naked in the middle of the track, eyes closed, face to the sky, palms up. Like a moon maiden, meditating, minus the moon.
Just as Gerry was about to go and fetch Karetta into the van, headlights swung around the corner and lit her up. Her gorgeous, fit form — all curves and muscle — was so enticing in the flickering light.
Maybe the nakedness was a distraction. Maybe she was just a slut about to fuck them all. Gerard's brain made no sense of any of this.
Unless she's a werewolf.
He laughed at himself. Werewolves needed full moons. He didn't know much about freaky shit, but he knew that.
The guys stepped out of the truck.
Oh God, any God listening, don't make me watch my girlfriend get nailed.
They advanced on Karetta. Three huge males, classic stereotype toughs with tattoos, piercings, shaved heads, and long hair. Big lunks who could throw mean punches.
Hang on. There was something different about Karetta's size...like she was greater somehow than she'd looked before. Would that be enough?
The guys approached, slowly.
Karetta threw her head up, dark hair waving down. She shrieked. Too piercing to be human.
The men paused.
Her form seemed to flow, yet even though she stood under the headlights of the other car, it was hard to see her. Her skin flickered, like candle flame, her shape changing.
Almost mad from suspense, Gerry flicked his van's headlights on too.
The thing standing where Karetta should have been turned to look at him with a growl. Its eyes were ancient and cold. Its skin was scaled and shimmering, with unbelievable muscle, and tooth and claw.
It's a fucking velociraptor! A were — Raptor? My girlfriend's a —
It winked at him. And grinned.
With a happy shriek it turned and tore into the men.
Gerry screamed — he couldn't help it. Blood splashed the windscreen, and the glass thudded as thicker things hit and bounced away.
The men tried to run. No escape. He closed his eyes.
The whole time Karetta shrieked in bloodthirsty joy.
There came a moment of quiet. He dared to look, but saw nothing but red smears — the windscreen was covered in gore. Gerry wound down the window and leant out.
It stood in the centre of the track. It threw its snout up and called: a short sharp bark, three times. With a glare and a growl at him, Karetta picked up the largest nearby fleshy piece, and ran into the trees with its prey.

About The Author
Kim Rose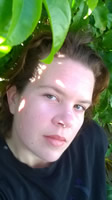 I am an aspiring Australian writer living on a small farm in central west NSW. We run a small animal rescue centre called 'Crescent Moon Lodge and Halfway House' and I self publish books on Amazon about our rescued animals. Our farm and our star attraction — Regina Gina the evil duck queen — have their own Facebook pages for fans. I have a passion for sci fi and fantasy and have a great deal of ideas I'm looking forward to exploring. Thanks for reading!