By Matthew F. Amati

Six months touring the galaxy, and this is what Mum and Dad bring me?
Dad beamed. "See, Son? It's a Robaire 55! Found 'er in the antique shop on Vega Prime. Vintage beauty, ain't it? Classic lines!"
"Uh, thanks Dad."
My classmate Frankie Furman got a Cerebron 5000 for his birthday. It looked like a silver ninja.
My Robaire 55 looked like a rusty clothes dryer. Boxy body. Accordion arms. Stumpy legs.
Oh heck, and when it talked?
HELL-O BILL-EE. I. AM. YOUR. SERV-ANT.
Robots haven't talked that way since Grandpa was a kid.
Mum worried. "Dear, this robot looks kind of old-fashioned. Are you sure it's safe for Billy to play with?"
"Oh, honey! Billy's a big boy. Anyway, it's got a safety guarantee. See?"
THIS UNIT IS GUARANTEED TO COMPLY WITH ASIMOV'S THREE LAWS OF ROBOTICS AND IS 100% SAFE FOR HUMAN INTERACTION.
I checked out those Three Laws. We learned 'em once in school, but you don't hear about those Laws much anymore. Today's robots are too smart to need those things.
A ROBOT MAY NOT HARM A HUMAN OR THROUGH INACTION ALLOW A HUMAN TO BE HARMED.
A ROBOT MUST OBEY ORDERS UNLESS THEY CONFLICT WITH THE FIRST LAW
A ROBOT MUST PRESERVE ITSELF UNLESS DOING SO CONFLICTS WITH THE FIRST TWO LAWS.
Sounded like everything was covered.
Ha ha. Stupid me.
I had to program the Robaire with a fourth Law almost right away:
A ROBOT MUST NOT BE SUCH A DUMB-BUTT THAT IT TAKES YOUR ORDERS LITERALLY AND ALMOST KILLS PEOPLE.
All I'd said was "Robaire, pick up the house." Then I had to explain to Dad, no that wasn't an earthquake. Sorry. I'm still paying for the cracked foundation out of my allowance.
As for "Robaire, baby-sit my cousin" — well, little Ruthie's ribs got broke, but lucky she's not dead. That Robaire's heavy as two trucks.
After my next mistake, I had to add yet another Law:
A ROBOT SHALL NOT CAUSE MILLIONS OF DOLLARS IN PROPERTY DAMAGE.
That was after Joey Kerble and me told the Robaire to build us a clubhouse. How hard could that be? The Robaire started gathering two-by-fours. We went inside to watch TV.
News flash! City landmarks vandalized! Metal bandit on the loose! National Guard called to intervene!
Next thing I knew, helicopters were flying over our house. Soldiers ran past the window. Joey and I ran outside to see what the commotion was about.
"Wow," said Joey, "Our clubhouse! It's huge! And it's got a helipad!"
"I think the Robaire stole that from the airport."
"And a big-ass fountain!"
"Which used to be in front of the museum."
"And a giant marble dome!"
"Ripped off the State Capitol," I groaned.
HELL-O BILL-EE. YOUR CLUB-HOUSE IS COM-PLEEEET.
Thanks, Robaire. (You idiot.)
It was a bad week. I had to add more Laws of Robotics.
A ROBOT MUST WALK AROUND THINGS WHEN IT GOES TO THE STORE TO GET MILK, NOT LEAVE ROBOT-SHAPED HOLES IN PEOPLE'S HOUSES.
A ROBOT MUST NOT BATHE THE DOG IN ACID. THE OBJECT IS NOT TO GET THE BONES SHINY, OK?
FEED THE BABY MEANS PUT FOOD IN FRONT OF THE BABY. NOT FORCE NUTRIENTS THROUGH THE SKIN AT 5000 PSI. (Ruthie's recovering, thanks for asking.)
A ROBOT SHOULD TRY TO WIN AT MONOPOLY WITHOUT CAUSING NATIONWIDE FINANCIAL PANIC.
The Robaire was fun, but it was annoying Mum and Dad. Like when I told the Robaire to dig a hole. And forgot to say stop. (But wow, a lava pit in our yard! Cool!) (Uh, stay back, Ruthie.)
Then the real trouble happened. Hey, I didn't start it! Joey didn't either. It was that bully Frankie Furman and his gang.
"Cool robot, nerd!"
"Shut up, Frankie!"
"Your robot's a wuss! It can't fight. Bet it can't protect you neither!"
"You leave my robot alone!"
When Frankie and his gang were done, I had a bloody nose. Joey had a black eye. And my poor Robaire was in p-p-p-pieces! All over the yard!
I was crying as Joey and I put the Robaire back together.
Then I added another Law of Robotics.
"Billy, what're you doin'?" Joey asked.
Fighting back tears, I typed:
THIS ROBOT MUST NOT LET ANYONE HURT HIM, EVER AGAIN, FOREVER!
The Robaire stood up. It fetched a welding torch from the garage.
"Billy, what's that crazy robot up to?"
The Robaire was rebuilding itself. I couldn't stop it. Soon it was 900 feet tall. It stomped through Downtown. It towered over skyscrapers, picked up a monorail train in each fist.
The Army decided it was a threat to Civilisation.
Gotta hand it to the Robaire. It sure stuck to that last Law I gave it. In fact, I think it forgot Laws 1 through 9 as it flattened the Western Hemisphere and lit the Eastern one on fire.
"How'd they stop it, Dad?"
"The double-A batteries gave out."
"Can we get new ones?"
"No."
Dad grounded me for two whole weeks. Nothing gets parents madder than mass casualties strewn across the smoking ruins of three continents.
Joey and I aren't allowed to play with robots anymore. By order of the President.
That's OK. Robots are lame.
Who cares? Mum stopped by the jumble sale today and found me a cool old time machine!

About The Author
Matthew F. Amati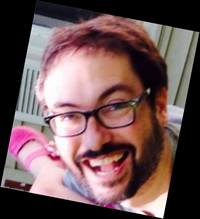 Matthew F. Amati was born in a small town in the USA, but was asked to leave shortly afterwards.
He has tried many careers including Chinese interpreter, farmhand, and adventurer, but now he performs simple humdrum tasks.
His fiction has appeared in Flash Fiction Online, Daily Science Fiction, Perihelion SF, Space Squid and elsewhere. You can find his diffidently updated blog at www.mattamati.com.