By John Brantingham

Harvey Michaels comes into the apartment no one knows about that he's rented in the good part of New Los Angeles and says, "Music on, something soothing. Bossa nova." After the music comes on, he walks to his bar and says, "Scotch and soda, make it a double. I've had a hard day." He listens to the ice clink into the glass, two cubes the way he likes it. There's the barely audible sound of the glass being filled, and then the little door opens.
He takes the drink, gulps half of it.
"Tiffany 278, come out of the closet and sit on the couch."
Tiffany 278 opens the door and slinks her way across the room as he has instructed her to do. She asks, "Yes Mr. CEO. What pleasure would you like tonight?" as he has instructed her to do, but he sits down next to her with a sigh.
"Something's wrong," he says.
"Nothing that a little pleasure can't fix," she says as she puts her hand on his leg.
"No." He pushes the hand off. "Something is wrong."
"Oooh," she says, letting her dress slip, so she is topless. "Oooh, think about your wife sitting at home. She doesn't have a clue you're doing this."
"You don't get it. Things are just out of whack."
She lets her hand slide between his legs. "Anything I can do?"
"I don't think so. Maybe I need a shrink."
"A psychologist?" She bites her lip, which would normally turn him on, but today, he feels nothing. "If you'd like, I can access the mainframe and download the psychological files into my pretty little head."
Harvey rubs his chin. "You can do that?"
"Quick as anything," she says in her sexy baby voice. "When you invested in the Mistress 5000 Program from Robotcorp, you got all the extras. I can do whatever you want." She raises an eyebrow suggestively.
"What the hell," he says. "Download the file."
Tiffany 278 blinks three times rapidly, her smile fading, her being seeming to go away as her face becomes neutral. Then she's back. She shakes her head and looks down on her naked breasts. "Ooopsy," she says. "Look what I did."
"Did it work? Did you download the files."
"Absolutely. Are you sure you want me to tell you what's wrong? We could just go for a tumble in the sheets Mr. CEO."
"No, no, I'm genuinely curious."
"Well," she stands and lets the dress slip off her the rest of the way, and then she gets on the floor in a cat pose. "It turns out that you have narcissistic personality disorder, which has forced you to see yourself as the centre of the universe."

She flips over on her back, wriggling as though she's taking pleasure in the feeling of the rug beneath her. "You've compensated for that first through business, then by acquiring a wife whom you treat badly, and finally through alcohol abuse. The problem is that you have no more companies to conquer, and your wife no longer loves you so you aren't seeing that wonderful pain in her face, and the pleasures of alcohol have worn thin. You try to compensate through sex with a robot, but you understand that's just complicated masturbation, and even that is becoming difficult because of the alcohol, your diet, and your lack of exercise. This is all just a complicated way of saying that you're kind of an evil person, and the flaws inherent to your soul have kept you from a life of lasting and fulfilling joy."
Tiffany 278 flips back over on her stomach and bites her thumbnail. "I sure hope this doesn't lead to a psychological break, but if you like, I can contact the police or the paramedics." She rests her head on his foot. "Or we could just do what I'm built to do."
She reaches up his leg toward his crotch, but he bats her hand away. "No," he says. "No." Harvey walks to the window and stares out over the city, so much of it that he owns.
"So you're going to have a teensy weensy existential crisis then? Let me know what kind of self-harm you're going to engage in next, and I'll be as helpful as pie."

About The Author
John Brantingham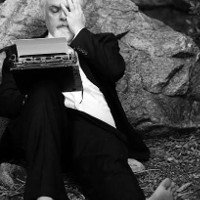 John writes about himself:
I am the first poet laureate of Sequoia and Kings Canyon National Park, and my work has been featured in hundreds of magazines and in Writer's Almanac and The Best Small Fictions 2016. I have eight books of poetry and fiction including The Green of Sunset from Moon Tide Press, and I teach at Mt. San Antonio College.