By Benjamin Muir

Mary Khan swore in the marketplace, at first under her breath, then openly in defiance of the public setting. She fumbled as she attempted to mount her mule hands-free, balancing two small children and her shopping. The creature darted forward defiantly, leaving Mary to topple over, spilling grain from her rucksack as she twisted like a cat to avoid falling on her progeny. She recovered the goods before attending to the screeching babes; Genghis Junior and Harold were, after all, the offspring of The Great Khan. Surely a child sired by the man who united the Mongols and killed millions could endure a small drop?
You wouldn't have known it from the wailing. She sighed as she pooled her resolve and began to comfort the distressed children, giving up on riding the mule. She looped the reins around her wrist and prepared for the long and arduous walk home.
As the 440th wife of Genghis Khan, Mary's eldest would be crowned in the event the 2,217 elder sons perished. This prospect was far from impossible, given that Khan tended to give them General roles in his horde. The thought however, did not sweeten the reality of living as a peasant when she was literally married to the head of state. Mary reached the door of the house after a considerable time, desperately looking forward to recounting today's indignity to her roommate. Putting the children to sleep, she did just that
"Granted," replied Betty Khan, the 441st wife who Mary boarded with. "He only takes up our time for like, two minutes, once a year? You know, with the other wives and the military campaigns and the premature ejaculation and whatnot."
"Of course, Betty," groaned Mary. "But he's got to have the strongest swimmers in Mongolia! He visits once a year; I spend the next nine months vomiting, then I push out another three-kilogram monster baby! I spend sixteen hours a day breastfeeding between two children! We must be entitled to some kind of state compensation?!"
"I can't believe nobody thought of Genghis Junior before you," said Betty with a pout.

"What if we form a union like Alexander the Great's boyfriends?" said Mary. That was it.
***
"Ahh, 440," said the Great Khan as Mary approached his throne. "How may I help you?" Genghis Khan fancied himself as a 'nice guy' where women were concerned. The irony was apparent to everyone but him.

"Well for a start you could pay us more than a peasant's grain allowance, swine!"
Khan smiled. Women insulting him made him fondly recall his stern mother.
"Darling," he said condescendingly, "I have a lot of wives and children to feed —"
"You also have a large horde, to whom we," Mary said, gesturing broadly at the legion of women now filling The Great Khan's court, "are the mothers of the generals, for the most part."

Khan paled. The only thing in this world he feared was his mother. They could cripple his whole campaign. Weakly, he agreed.
Along with international mail, Genghis Khan is often accredited with the invention of child support, then subsequently, the condom.1
---
1One of these is factual.

Benjamin Muir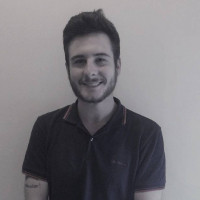 Benjamin Muir is a 24-year old writer and attempted academic from Western Sydney. He has just submitted his thesis for his Master of Research and hopes to continue onto his doctorate next year. His creative work has been featured at Studio Stories, while the short-lived Deadwords, I Probably Hate Your Band and Killyourstereo have been the recipients of his critical work. He encourages you to follow his work at <https://www.facebook.com/benjaminmuirwriter/>.