By KJ Hannah Greenberg

Kayla unfurled her fist. Her palm hurt where her fingernails had made indentations. Not Mom, not Dad, and certainly nor Grandma had given any indication that they cared whether or not the next door neighbour had commented on Kayla's childish thighs and nascent breasts.
Consequently, the young girl vowed never to play on her swing set, again. She promised herself that, similarly, she would no longer walk her dog, Juniper, past Mr. McGraw's house, even if going "the long way," meant she would have to spend twenty minutes on that chore instead of five. What's more, Kayla pledged to herself to immediately begin wearing skirts that covered her knees and loose-fitting hoodies.
That little miss regarded the quickly fading depressions on her skin. It would be years until she entered high school and then more years until she was old enough to leave home. Masking her body and changing her route were the best solutions she had to her awful problem.
Grandma commented on Kayla's dark-coloured, unstructured ensembles. Mom muttered that suddenly it was taking Kayla longer to walk Juniper around the block. She asked, with a smirk, if Kayla was meeting a secret "friend."
As for Dad, he said nothing about those changes since he rarely got home before ten and since, when he reappeared, he exhaled a terrible smell of something which Kayla suspected made him forgetful. It had been a long while since Kayla willingly gave him goodnight kisses.
Hence, except for Mom and Grandma's occasional sniping, Kayla's limits remained her sole armour against her neighbour's provocations. That is, they were her only protection until the day when Juniper got loose.
When the dog eventually came home, her fur was matted and one of her ears looked scorched. Furthermore, she carried something in her mouth.
Kayla extended her palm to her pet. Juniper spit out a curiously tiny, silver disc.
Years ago, in elementary school, David Something-or-Another had shared with Kayla and everyone else at their lunch table a tale about his own dog encountering miniature "aliens." At the time, none of the other children had remarked to him or to each other about his narrative — as first graders, they were supposed to be imaginative. In fact, one boy interjected to spill a story about a purple giraffe. He, in turn, was interrupted by a girl who wanted to disclose how she had become a princess.
Now, a full middle schooler, Kayla remembered David's story. She wondered if the "spaceship" that Juniper had fetched had just landed or had long sat in abeyance. She deliberated, as well, whether or not any "entities" were sheltered within it.
While she was cogitating, Mom called her to empty the dishwasher. So, the tween used the edge of her hoodie to wipe dog saliva and mud from the "vessel", then placed it on the shelf adjacent to her bed before running downstairs. When she got back to her room, she forgot about it so busy had she become with thoughts of finishing her math homework.
However, when Kayla woke up and smelled something burning, she remembered Juniper's find. After all, it was odd to smell smoke, other than bar-be-que tang, wafting from outside. Besides, no one lit their grills, even for roasted marshmallows, early in the morning.
Kayla peered out each of her bedroom windows. Looking out the first one into her backyard, she noticed a rabbit sampling her family's vegetable garden and saw their clothesline swaying beneath drying swimsuits. Past their property, she heard birdsong as well as the voices of students who were so diligent as to be already en route to school.
The view from her other window, though, was extraordinary. A crater stood in the spot where Mr. McGraw's house had sat. No clatter arose from that direction.
Kayla rubbed her eyes. She turned to regard the shelf where she had placed her minute, shiny treasure. It was still there. It was still stationary.
Juniper clawed at Kayla's door. Kayla let the pup in.
Juniper wagged and wagged at the preadolescent and would have continued to do so had she not spotted the "otherworldly" ewer. Juniper barked.
Kayla carried her outside of her room. She shut the door.
That night, her father failed to materialise. In due course, two police officers came to the house. They told Mom that Dad had been fatally struck by a car and that he had been in the company of a known doxy.
Mom fainted. Grandma cursed and shooed Kayla upstairs.
Dad's funeral was closed casket. Only immediate family members were made welcome at his gravesite.
When Mom, Grandma and Kayla, along with Juniper, relocated to a small apartment, Kayla took along her silver "star yacht." Since she shared a room with Grandma, she hid her "rocket" under the friendship bracelets that filled her jewellery box.
One day, when she was looking for her favourite set of purple plastic beads, she discovered that her pod was missing. That afternoon, Grandma was rushed to the hospital.
At the hospital, an attending nurse disposed of the weird, diminutive husk that the octogenarian had grasped in her hand. The nurse, likewise, helped herself to the contents of the elder's purse that the paramedics had brought along. Within the year, that nurse was found among the bodies collected after a tsunami had swept a popular vacation destination.
By the time that Kayla had entered high school, she had been experimenting with wearing short-sleeved shirts and with skirts that ended slightly above her knees. She had stopped worrying over the fate of her "intergalactic ferry" and its alleged passengers, too.
Meanwhile, Juniper's muzzle had greyed. Plus, Mom was resolving to remarry.
Kayla lettered on the school's basketball and volleyball teams. Though more of an athlete than a geek, she excelled in English. Her favourite assignments were the reports she had written about W.W. Jacob's "The Monkey's Paw" and about Douglas Adams' The Hitchhiker's Guide to the Galaxy.

About the Author
KJ Hannah Greenberg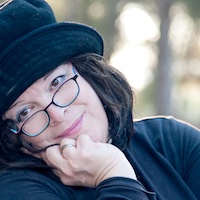 KJ Hannah Greenberg has been playing with words for an awfully long time. Initially a rhetoric professor and a National Endowment for the Humanities Scholar, she shed her academic laurels to romp around with a prickle of imaginary hedgehogs.
Thereafter, she's been nominated once for The Best of the Net in poetry, three times for the Pushcart Prize in Literature for poetry, once for the Pushcart Prize in Literature for fiction, once for the Million Writers Award for fiction, and once for the PEN/Diamonstein-Spielvogel Award for the Art of the Essay. To boot, Hannah's had more than three dozen books published and has served as an editor for several literary journals.
Find out more at her website: <http://kjhannahgreenberg.net/>.
KJ Hannah Greenberg's newest book, Owmapow Rides Again, launches Jan. 2nd.