By Estelle Owen

"Well that's that then." I sat deflated and stared at the single sock.
The design was spectacular.
It could be mistaken for a spider web.
It was also large and peculiar smelling.
I had researched it, reviewed it and taken it to every corner of the globe.
It remained solitary.
My brother turned my way and said to me, "What are you mumbling about, oddball?"
"The sock. I have had it published in every science journal and every newspaper of every country. It has been my life's work. I am both elated and frustrated that I cannot find its pair."
My brother, aging now but obtuse, came over and stared at the sock on the table. "I don't know why you bothered."
"Well…" I said, "it is my theory that like all travellers, aliens will one day leave, by accident, a single solitary clue."
My brother stared at me like I was from another planet.
I thought he was from another planet because he was ruthless, smelt strange and lacked any human emotions.
He was, however, a hit with the ladies … somehow?
He was the basis behind my study. Him and this sock. Every horrible Christmas he had left something behind at my place, some reminder that he had visited my pristine, environmentally friendly home.
I had found this sock after a music festival had come and gone in the Simpson Desert.
The alien sightings had increased significantly throughout the week leading up to 'Running Man' and I and my team had camped out from afar and watched the whole thing.
My brother's 'love and leave them' attitude had led me to come up with the theory of not termination but infiltration.
If I were an alien, I would land in the desert, attend one of these festivals smelling "masculine" and 'treat the ladies mean and keep them keen.'
I would successfully infiltrate the human population.
That was how I met my wife. She was one of my brother's one night stands.
She was beautifully awkward and intelligent. She felt broken hearted that she stupidly allowed herself to be used and he just threw her away. She was already pregnant when I soothed her and married her and raised my brother's child as my own.
She became one of my best researchers.
It was only after her loss that we, as now aging brothers, were spending more time together.
My brother just stared at the sock and shrugged.
"That's Grandpa's sock."
"What?" I questioned.
"Grandma showed it to me one day. She told me that was the only thing she had left of Grandpa."
"She described it as a bad 'Cinderella story' and posted it all over the social media of those days, about fifty years ago."
"Why are you just telling me this now?"
"I try not to concern myself in your life. It seemed so futile." Dismissed by my brother.
"I have published a whole thesis expounding on my theories of aliens infiltrating the human race based on this sock. It is woven from unique fibres and has unusual DNA."
"You are unusual DNA," teased my brother. "Sitting in a lab studying an unusual sock. Maybe you and your kind are the awkward aliens trying to blend in and not quite making it."
"Well, I based my theories on your exploits spreading your DNA like an out of control sprinkler system. Maybe your kind is the aggressive population growth alien."
"I like that explanation, but you're still the weirdo," assessed my belligerent brother.
"Why?" I asked. "Is it because I spent my time researching and still managed to successfully raise a beautiful family of children. That's what you should have done."
"Your family of 'beautiful children' is as colourful as a box of Fruit Loops. You are a weirdo because you stole Granddad's sock and made a career out of it."
"What do you mean stole?"
"It was locked in the safe at home with Grandma's paperwork from 1980 analysing its fibres and newspaper ads asking for information on its pair. She was obsessed with it too."
"I found this sock in the Simpson Desert. That was the night I met Daisy. She was crying after you had ditched her at the music festival."
"Well, maybe Daisy stole it," he said as he opened his safe.
There at the back, in the corner, sat the other sock.
I held in my hands the pair. The two socks began emitting a pungent smell at the joy of finally being together again. A green gas entwined in the air. With eyes watering, I held my nose. Apart from the smell, all physical evidence of the socks had disappeared.
My grandmother's journal held an explanation about her theories of infiltration. All based on her single sock.
Among them were statements about Grandpa landing on Earth to be with as many human girls as possible. She mentioned Woodstock, and the girls with flowers in their hair and the love epidemic.
She also mentioned women like Daisy; women from a different alien race carrying babies from as many men as possible.
Grandma had a theory that two aliens pretending to be human would meet awkwardly and complete their dual missions of populating the earth with half-bred humans.
She had decided that there were no humans. They had evolved spiritually and bluntly refused to give birth many decades before. Currently, there are just varying species of interplanetary beings all trying to fit in.

All of us are just trying to be human: a rare or extinct life force.

About The Author
Estelle Owen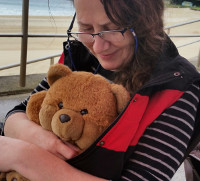 Estelle Owen lives on the Mid North Coast.
If asked she will happily babysit toys, dogs and kids for her friends.
She often finds herself awake at 3am jotting down a dream or idea for a story.
With the brave notion of living fearlessly she recently tried hang gliding and has started to share her odd little stories.