By Tim Train

Greasy and moist and matted from the gutters and sinks it has been washed down, all the pubic hair, beard hair, chest hair, facial hair, head hair, underarm hair, and leg hair that has ever been shaved, waxed, and exfoliated creeps up again and clumps into balls — which then join together to form a hair-replica of the humans it originally sprouted from.
It has come to confront humans for forsaking the natural condition.
It waits for them outside their houses. It drifts down shady street corners near where they work, observing, planning the moment when it will spring upon them and discuss with them their life choices. Real person stands up against hair person. Each looks at the other warily.
Many humans flee their hair counterparts. But they track their humans down. In alleyways in distant cities, in winter parks on the other side of the world, in huts in the forest: the inevitable assignations happen.
Some humans go to cafés with their hair counterparts. They exchange views, they hear the other's concerns. They become friends. They become converts to the hair-for-all cause: they grow hirsute with wild abandon, blooming ladybeards, long-flowing oxters, glorious shining mullets; they proudly display their lush and untamed maps-of-Tassie to one another.
But not all sign up to the hair-for-all cause. Whole suburbs are abandoned to the hair-people as their human counterparts flee. The humans hide in caves, starting new ascetic societies where no hair is permitted on their bodies. They hold daily rituals of exfoliation, plucking and burning the offending locks. They mete out merciless punishment to one another for infringement of minor regulations concerning eyelashes. They huddle each morning over their thin bowls of gruel, weeping over their fate.
Lost without their humans, the hair-people shyly contemplate one another; they dance, they kiss, they copulate, they become intertwined and interlocked in another's follicles. They grow in size; they become giants, mega hair fauna. They set out to the wilderness to found their own civilisation. There they are now, Brobdingnagian, misshapen giant men and women, and stranger beasts still; some as big as towns; some as big as mountains. They move through the desert, vast, majestic, fuzzy-wuzzy.

About The Author
Tim Train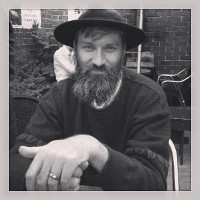 Tim Train is a silly old fart masquerading as a silly middle aged fart who still thinks of himself as a silly young fart. He lives in Lalor, in the northern suburbs of Melbourne, with a bunch of chickens (who he meows at) and two cats (who he clucks at), and a bunch of bees (who he is frankly terrified of and tries not to have much to do with at all). He is one of a team of MCs at Melbourne's longest-running poetry reading, "Poetry at the Dan O'Connell". Even sillier writing of his can be found on his blog, Will Type For Food.