By Simon Petrie

The earlier Jupiter mission hadn't gone brilliantly; nonetheless, the 9000 Series of Heuristically Programmed Algorithmic Computers were still the machines of choice for spacecraft systems control at the time of Humanity's first manned mission to another star system. The Discovery Nine starship would carry a crew of six, scrupulously chosen after exhaustive psych screening and years of training. The mission to the planets of Proxima Centauri was to be one-way, and considerable thought had gone into ensuring that the eventual colony would be as well-equipped as was feasible.
To this end, the vessel would also carry terraforming equipment, unbreakable biodomes and prefab habitats, an extremely extensive seed bank, cryogenically-frozen embryos of numerous animal species, and, to ensure optimal human genetic diversity, sperm and egg samples from upwards of a million human donors, each of which had paid handsomely for the privilege of allowing their genetic material to propagate across the interstellar gulf. The HAL9000 was, of course, in charge of maintaining optimal storage conditions for all of the biological material on board, as well as ensuring the smooth and safe operation of the starship itself. Nonetheless, as one might appreciate for such a demanding and complex mission, there were numerous problems to be surmounted in the weeks preceding the launch. Finally, preparations appeared to be complete.
"Do we have permission to launch yet, Captain?" the Navigator asked.
The Captain checked with her other officers. Propulsion was primed; life support showed green; the suspended-animation chambers, in which the crew would spend most of the voyage, were set to usher them into coldsleep; and the ship's comms array was locked on to all the Luna / Terra relay stations. But one problem remained unresolved on the bio board.
"Dave, what's the holdup?" the Captain asked.
"HAL's showing a fault in one of the cryotanks. Shouldn't be irreparable, but it's proving obstinate."
"Which tank?"
"The human egg samples, Captain. I've still got them sitting in the transport dewars. That'll keep them chilled for a day or more yet, but we need to get that tank cold enough for cryopreservation. I'll keep you posted."
"Thanks, Dave," said the Captain, and turned to the Navigator. "Well, there's your answer, Kim."
"What answer?" asked the Navigator. "I missed the details of that."
"We'll be ready to go," replied the Captain, "when HAL freezes ova."

About The Author
Simon Petrie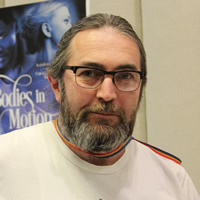 Born and raised on the South Island of New Zealand, Simon Petrie now lives on the North Island of Australia, where a local university pays him to think about molecules. An avid reader of SF for more than four decades, he's had a go, more recently, at writing the stuff. He has thus far won two Sir Julius Vogel Awards (NZ's spec fic awards): in 2010 for Best New Talent, and in 2013 for Best Novella ('Flight 404', Peggy Bright Books). His short fiction has cropped up all over the place (including AntiSF), and has been collected in Rare Unsigned Copy: tales of Rocketry, Ineptitude, and Giant Mutant Vegetables (2010) and Difficult Second Album: more stories of Xenobiology, Space Elevators, and Bats Out Of Hell (2014), both edited by Edwina Harvey and published by Peggy Bright Books. He's a member of the Andromeda Spaceways publishing collective, of the Canberra Speculative Fiction Guild, and of SpecFicNZ.