By Phillip Berrie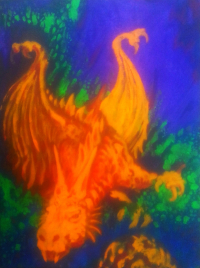 (With apologies to Messers Tolkien, Wells and Lucas)
The halfling wedged his sword into the hole he had scraped in the dirt beneath the large stone. Of elvish make, he hoped it was as strong as it was sharp; he needed its mechanical advantage to move the barrier that lay between himself and freedom.
His lever secure, he wiped the dust from his hands and, after taking the strain, pushed downwards, ignoring the pain where the wired grip dug into his soft hands.
For a moment nothing happened, then something gave.
He backed off and then tried again and once more felt something shift. In this way, he slowly rocked the stone until, of a sudden, it shifted gratingly of its own accord.
Exhausted, the halfling checked the results of his efforts. The stone still mostly blocked the entrance to the cave but not so tightly. With luck he might be able to squeeze through.
But first a little rest, perhaps. He'd been stuck in these damnable caves for what seemed like days. He was dirty and covered with numerous small cuts and abrasions. Even the tough soles of his feet were feeling hard done by.
When he'd caught his breath, he picked up his sword — miraculously undamaged by the ordeal — and pushed it, and the golden cup he'd managed to steal, out through the hole. Then, he squeezed himself into the gap.
He was a tight fit.
One thankful result of his recent enforced fasting was that his stomach had shrunk considerably from when he'd left home, all those many weeks ago.
At long last he laid sprawled upon the ground outside sucking in lungfuls of clean air and relishing the warmth of the sun. Those stupid dwarves could keep their delving into the deep earth, he decided. He'd be staying on the surface for a long time, now that he'd got here.
As he lay there, he became aware of a thrumming in the air, and then the sun dimmed.
As quickly as he could, he rolled to cover behind the nearest substantial boulder — passing overhead was some sort of massive beast.
But it was nothing at all like what he expected. It was more like...
Well, it was more like an enormous sausage but a sausage seemingly made of metal.
The halfling scratched his head in consternation. Had his lack of food driven him mad?
Unheeding, the strange shape flew on noisily, and from this new perspective he could see that some sort of hut hung suspended from the unusual specimen of what he'd used to call 'smallgoods'.
His mind reeled with possibilities. Did the inhabitants of the hut sup off their huge sausage, or was its flesh too tough, or perhaps too prone to inducing wind to be considered edible.
He shook his head in wonderment and then jumped as a rock clattered down close by. Caution reigned, and he ducked down close to his rock again as another, stronger, tremor shook the ground.
Do trolls stalk these hills as well? he thought, gripping the hilt of his sword.
He looked around for a better hiding place as the ground shook once more.
No sooner had he gone to ground than the source of these disturbances became apparent to his wide-eyed gaze: into the valley that lay before his exit hole there stalked another giant.
The newcomer also appeared to be made of metal, but it had three legs that were as long as some of the trees the halfing had seen in the forest of the elf king. Atop these enormous legs was a carriage, and as he wondered what type of being might ride in such a vehicle, he was momentarily blinded by a beam of red light that flashed from the carriage, striking out in the direction the giant flying sausage had taken.
Trembling with fear, he watched as the giant machine made its way along the valley and out of sight. What manner of place have I come to? he wondered. There is nothing like this at home.
Then another sound came to his ears and he ducked down yet again. This sound was like the roaring of a mighty waterfall, and it was coming closer.
It was another carriage, a wheel-less one, pulled by headless — and legless — metal horses that were attached to each other by a continuous bolt of crackling purple lightning.
Amazed, he watched the strange vehicle sweep through the valley. There was a single driver seated low in the small, pod-like carriage whose destination appeared to be the same as the strange three-legged machine. However, that did not stay the case as the vehicle suddenly changed direction and headed towards him.
Had he been seen?
Nervously, he drew his sword. It was magical, but he doubted it would be much use against something moving so fast.
Quicker than expected, the carriage swept towards and then past him and the halfling caught a brief glimpse of the small, helmeted figure at its controls before the flying carriage was up and over the ridge behind him.
Shaken by this parade of bizarre and fearsome sights, the halfling sprang to his feet in a panic.
Somehow, he must have made a wrong — and extremely magical — turning in the caves while escaping. He didn't know this world at all, but he knew it was nowhere he wanted to stay.
Turning, he faced the cave in the hillside he'd only recently emerged from. Despite his trials within, there was no way he was going to stay here.
He'd rather take his chances with the dragon.

About the Author
Phillip Berrie
Phill Berrie has had a lifelong love affair with science, speculative fiction and role playing. It was his love of role playing that led him to start writing in the spec-fic genre and his attention to detail (read OCD) that helped him fall into editing.
A life member of the ACT Writers Centre, he is the author of two published speculative fiction novels: The Changeling Detective, an urban fantasy, detective noire story set in and around Canberra, Australia; and Transgressions, a high fantasy tale about life changes, sex changes and petty gods. It is his sincere hope that he can get back to writing both these series as soon as his current magnum opus, an episodic, electronic choose-your-own-adventure story called Choices: And Their Heroes Were Lost (produced by Tin Man Games in Melbourne), is finally completed.
Phill now lives in semi-retirement in Yass, New South Wales. As well as his writing and editing, he commutes to Canberra three days a week to help science teachers teach science in his roles as the digital projects officer and pro tem publications manager for the Australian Science Teachers Association. Despite all his attempts to do otherwise, he has never worked harder in his life and dreams of retiring almost as much as he dreams of the fantastical worlds of his imagination.