By Eugen M. Bacon

ATLAS PROMETHEUS was not born Prometheus for nothing. His grandfather was a chef, as was Atlas's dad, who owned a restaurant.
In defiance of tradition, Atlas veered into computing, light-years from the food industry. His mother never let him forget how that defiance had brought about his father's migraines, his grandfather's depression and subsequent death. A death the doctor had attributed to old age but Atlas (and his mother!) carried doubts.
After all, Gramp's death arrived straight after Atlas received (and accepted) academic scholarship to the renowned Global Surveyor, an academy of distinguished talent and tutorship.

Not soon after his graduation with distinction, Atlas presented his brainwave to a lender, convinced him enough to gain a business loan. In days, he had set up stall and the 'Coming Soon' notice quickly became 'Now Open'.
He called it McGizmos.
True, he sold fries, burgers, spicy wings and veggie alternatives, but he also gave away gizmos: midget toys with intelli-chips. The toys could do stuff, like tell time, read the news, sing lullabies to babies. At first, local citizenry flocked to McGizmos out of curiosity.

Adaptive enterprise, Atlas explained.

Then they flocked out of necessity when the toys broke down and needed fixing. As repairs happened, they bought fries, burgers, spicy wings and veggie alternatives.
Atlas was a chief visionary, his father — who had recovered from his migraines to help at the stall — said.

Nothing but toy configuration management, Atlas said.

They needed more hands, so his mother joined the staff.

Soon, Atlas had no choice but to expand. He founded a Life Cycle Management stall and employed new hands. The new stall did no repairs; it replaced toys. Nothing obtained with a kiddie meal at McGizmos was irreplaceable. A newer and better toy swapped anything wrecked.

By and by, Atlas enacted another brainwave. The new stall was Data Categorization. This one had the kiddies all sorted. Trained staff studied a child's eye colour, smile trait, depth of gaze or breathing pattern as a measure of toy proclivity, and they knew exactly what to give the child. Something that would make them come back, again and again, with their siblings, and their parents — who all bought fries, burgers, spicy wings and veggie alternatives as they waited to be served on gizmo matters.
The most popular toy was Maureen Barry. She wore graphite hair, high cheekbones, diamond eyes and a yellow sundress. Not only did she sing lullabies and tell the news; she could tie ribbons in a girl's hair, put curlers on a woman. Her counterpart Barry Drew could brush a person's teeth, shave a chin, knot a tie.
Atlas never ran out of ideas. He founded the Cheat Sheet stall, where people could place advance toy orders with each birthday cake bought. Yes, Atlas had expanded his kitchen to include cakes, McGizmos cakes that resembled the toys.

By and by, McGizmos was too large to man single-handed, so Atlas outsourced some of the enterprise. This gave rise to McGizmos chains. After two more years of ridiculous wealth, Atlas went open source. He unlocked his original toy intell-coding for other programmers to use or better, or both. And they did. Keen techies took the concept one up and came up with virtual agents for processing large-scale gizmo ordering and shipment, with house-to-house delivery of burgers, spicy wings, veggie alternatives or McGizmos cakes. New gizmos had auto-sensors to light or dim a room, heat or cool a house. Sophisticated ones could play chess.
As the chains grew, so did others offering competition. Sales were based on branding and customer loyalty, and McGizmos — with the efficacy of its virtual agents — had both.
War, when it came, happened so quietly that at first nobody noticed. Virtualists vs Realists: did the physical world and its properties carry as much value as the virtual world? Nanometer or kilogram arguments erupted. Tabloids questioned.
The conflict between Virtuals and Realists was not a battlefield war: this war was subtle. It meant selection in schools, in hospitals, in offices — who got placed, and who didn't: a Virtual supporter or a Realist. It drilled down to choice of friends, of spouses.
In the heart of this battle came new elections: voting for a new premiership to govern the lands. Atlas Prometheus ran and won. He would take it all away, he had promised. Virtualism. He would deliver the people, and restore democracy.

He would bring back the Stone Age.

About The Author
Eugen M. Bacon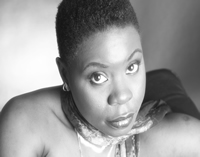 Eugen M. Bacon has published over 100 short stories and articles, and has a creative non-fiction book out with Palgrave McMillan in 2017. Her stories have won, been shortlisted, highly commended, commended and long-listed in the Copyright Agency Prize 2017, Fellowship of Australian Writers (FAW) National Literary Awards 2016, Alan Marshall Short Story Award 2016, Lightship Publishing (UK) international short story prize 2013 and Fish Short Story Prize 2013/14. Eugen's creative work has appeared in literary, science fiction and fantasy magazines and scholarly journals worldwide, including Award Winning Australian Writing, AntipodeanSF, Andromeda, Aurealis, Horrified Press anthologies, Meniscus, TEXT and through Routledge in New Writing.