By Pascal Inard

Loki rolled the dice and moved his thimble token six places. "'Go to Jail' again? This game's rigged!"
Apollo laughed. "Maybe you should apologise to Fortuna. She's still mad at you for cheating when you played poker with her."
"How else can you win against her?"
Aphrodite picked the dice and threw them. "Whoo-hoo, double sixes!"
"Hey guys, have you seen Ra?" asked Inti.
Aphrodite turned around and replied "Hi Inti. No, I haven't."

Apollo and Loki shook their heads.
"I'm worried he's done something foolish. The last time I saw him, he said he was sick and tired of retirement, and he wanted to end it all."
"Aren't we all?" said Aphrodite. "None of us chose to be here, playing stupid games to pass time. If only mortals weren't so fickle, throwing us out like clothes that have gone out of fashion."
"Except for Hindus — their gods are still going strong. I don't know if Brahma and his offspring will ever join us here," said Apollo.
"I think I know where Ra is," said Loki in a low-key voice.
"How would you know?"
"I went to the world of mortals to have a peek — "
"You what?" said Aphrodite. "Wait until Father finds out, you're going to be in big trouble."
"Let him finish," said Inti. "What has that got to do with Ra?"
"He seemed really interested by what I told him. He even smiled, and he thanked me when he left."
"Tell us what you saw," said Inti. "We promise we won't tell Father, don't we?"
Aphrodite and Apollo nodded reluctantly.
"Nowadays, mortals spend all their time looking at screens. They've found these new gods you see, and that's how they worship them."
"What new gods?"
"They're digital gods, which means mortals can talk to them with their screens."
"Where did they come from?"
"It's a mystery, but there's a whole pantheon of them. Their king is called Google. When mortals pray to him, he tells them which deity can grant their wish. For example if they want knowledge, Google tells them Wikipedia has what they want. If they want to see what their friends are doing, Facebook tells them. To buy something, they have several gods with strange names like eBay and Amazon. I saw one called YouTube who gives them images of cats to make them laugh."
"What about music?" asked Apollo.
"I think it's Spotifax or something like that."
Aphrodite frowned. "Is there one for love too?"
"That I don't know. I didn't stay long enough to make a list of all the new gods."
"But what would Ra do in the world of mortals?" asked Apollo.

Loki shrugged. "I don't have a clue, but he looked like he had an idea."
"Let's go and find out before it's too late," said Inti.
"But I just built a hotel in Oxford Street!" said Apollo.
"I'll come with you," said Aphrodite. "I want to know who's replaced me!"
"I'm with you," said Loki.
***
As the three deities didn't find Ra in Egypt, they looked for another place where sun worshippers abounded. South America looked promising, so they went to Buenos Aires, bewildered by how much the world of mortals had changed since their last visit.
"I thought Ra would be attracted to this place because the mortals have put a picture of a sun on their flag, but it doesn't look like he's here. What do we do now?" asked Inti.
"Let's get one of these screens," said Loki, "and then we can ask Google where Ra is."
"This place with a picture of an apple has lots of them," said Aphrodite.
A man with a blue T-shirt welcomed the three deities as they walked in the shop. "Good afternoon, may I help you?"
"We'd like a screen."
"Ah yes, are you after an iPhone or an iPad?"
"This one looks nice," said Aphrodite, pointing to a phone.
"That's the iPhone 10. It's got some really cool new features. Would you like to see them?"
"Yes, please show us how to speak to Google."
"Ok, Google," He said to the phone before handing it to Loki.

Loki looked at the screen with the Google app.
"What do I do now?"
"Just tell Google what you want."
"Where is Ra?" said Loki to the phone. He frowned at the resulting screen and said, "I don't understand Google's answer."
"Let me have a look," said the salesman. "The first four results are for Rheumatoid Arthritis, but I guess that's not what you're after; you're too young for that."
He pointed to the fifth result and said, "Tap on this one, like this."
A page appeared with a picture of Ra and the hieroglyph representing his name at the top.
Click the Worship button for your place in the Land of Two Fields, without having your heart weighed by Maat. That's right, no matter what you've done, your place is guaranteed, no questions asked. All you need to do is click the Worship button. What are you waiting for?
"How do I speak to him?"
"Look, just below the Worship button, you can leave a comment."
"Ra, it's me, Loki. I'm here with Aphrodite and Inti. Where are you?" Loki typed with help from the salesman.
"In the Web," replied Ra, "where all the digital gods live."
"Come back, we miss you!"

"What for? I'm better here. I've got some worshippers now."
Loki saw a counter next to the Worship button. "Three thousand, two hundred and fifty seven. You're not going to get very far with that."
"A man called Chakravarthy sent me a message. He said he was going to do some Search Engine Optimisation, and he promised I'll have top ranking on Google."
"What do you think?" Loki asked the salesman.
"No offence to your friend, but I'd rather watch a cat video."
"Ra, it's no good. You'll never be able to compete with the digital gods. None of us will. You're on your own here, but if you come back we'll look after you. You know you can count on us."
No answer.
"Are you there Ra?"
"What's the point? I may as well end it all."
"No Ra, don't!"
The screen flashed, and Ra's page was replaced by a "Host Not Found" message.
Loki turned to the salesman. "Your screen doesn't work anymore."
The salesman tapped on his iPad and got the same result.
"Must a problem with the Wi-Fi. I'll find someone to fix it."
"Is Wi-Fi another one of their digital deities?" asked Aphrodite.
After a short time, the salesman came back with a grim face. "Head Office called all around the world, and it's the same story everywhere. No one knows what's happened, but it looks like the whole Web just died. There isn't a single site that responds. My god, what are we going to do?"
Loki turned to Aphrodite. "Well, those digital gods aren't all what they're cracked up to be. Let's stick around, I have a feeling we didn't come here for nothing."

About The Author
Pascal Inard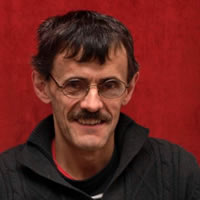 Pascal Inard writes novels, short stories and non-fiction books, mostly in English, but sometimes in French. He lives a creative life in Cheltenham, a suburb of Melbourne in Australia with his illustrator and crafter wife Isabella and their three children. When he's not writing or photographing, he manages IT projects for an Australian bank.
Pascal Inard is the author of "The Memory Snatcher", a science-fiction mystery about a police inspector and a quantum physicist who join forces to stop a memory thief from paralysing the world, and "Web of Destinies", a time travel mystery about a doctor who inherits a mysterious typewriter that can change the past, and is confronted with a secret agent who wants to use it to change history and a monk who wants to stop him. "Pushing up the digits", his collection of short stories on the digital afterlife is now available free in all major ebook retailers (except amazon where it sells for 99 cents).
His writing has been published in a number of anthologies and magazines. View his bibliography at <http://pascalinard.blogspot.com.au/p/blog-page.html>
You can connect with Pascal Inard on facebook <http://www.facebook.com/Pascal.Inard.Writer>