By Jessica Nelson-Tyers

My baby girl hadn't been sleeping well, so if you're wondering whether I'd been burning the candle at both ends, the answer is yes. At both ends and from the middle. I was pieces of disconnected string swimming in a pool of beeswax. But tired isn't the same as mad; it doesn't explain what happened.

Leigh had been up and down all night with a fever topping at 39, so we'd gone through the usual: do we take her to hospital, does she have a rash, do you think she's in pain?
The storm was tipping trees and washing out roads, so we weren't keen to travel. That seems trivial now.
The power went about eight o'clock. The house was lit by a paparazzi of lightning flashes and a few candles that Andy had found by fumbling through the laundry cupboard. In the end, we gave Leigh some Panadol to drop her fever and decided to take her to the doctor in the morning. I put her in her pink summer wrap, the one with embroidered daisies. She dropped into a deep sleep.
I tried to return to sleep myself, but there was no chance. I kept getting up to feel Leigh's forehead — gently so as not to wake her — and each time it was a furnace against my palm. I shivered even in my dressing gown, but the unheated air was doing nothing to cool Leigh. I watched her taking breaths for a while then left to read while my Kindle's battery lasted.

I was starting to drift when I heard Leigh cry. I increased the backlight on the Kindle to illuminate the black-hole hall. I stubbed my toe in my rush to comfort her. I was still limping, skip-and-hop, when I reached her bedroom door and stopped short. I exhaled sharply, as though I'd been punched in the gut. Someone was in my daughter's room.

I turned the Kindle to shine on the intruder. She was about my height and shape, but she was dressed in weird clothes, and despite the dim light I could see her ears were wrong. Weird shadows played over her face. She was holding Leigh in her arms; my little girl was arching and crying.

I didn't want to make any sudden moves: the woman was cornered and I didn't want to push her into hurting Leigh. I stood still and clenched my hand so tight that the nails cut.

'Put her down,' I said. My eyes were stinging with rage, but I kept my voice low.
She didn't reply at first. She kept her eyes on me and fiddled with something in her right hand. It occurred to me that it might be a knife. Leigh was slung in the crook of the woman's left elbow, facing outwards, tiny legs kicking. She screamed louder. 'Please don't hurt her,' I said. I was breathing hard, trying to keep it together. 'The police are on their way. Just put her down and get out.'

She ignored the lie. She held the metal object in her right hand up to her mouth and chanted into it. Not English. I don't know what it was. Her voice was rough and breathy, like mine when I've cried.
I called to Andy, but again not too loudly. I didn't want to set her off. Andy had been up and down earlier, but I'd told him one of us should get some rest and he'd taken me at my word. He didn't hear, didn't come. I crept a few paces closer to the woman. She motioned to me to stop. I hesitated.

She kept her eye on me as she edged to the wall behind the cot. There was no window there, or I might have run to snatch Leigh. She's so small, I was picturing a hundred ways the woman could damage her before I could reach them. I kept talking, quiet and soft, saying I'd get help for her and it would all be okay, things like that, anything I could think of. I kept the Kindle's glow on her and inched forward.
The woman touched the metal object to the wall. The darkness of the room and the night seemed to concentrate on that spot, pooling to the size of a door. She laid one hand on the thick-barred cot, just for a moment. 'I'm sorry,' she said. 'I lost mine.'
I moved faster. I got close enough to light up her face properly and saw how close our features were. She could have been me, with different hair, different clothes, warped ears. She seemed to be leaning into the wall. That's when I realised what was happening. She was leaving. She was getting away with Leigh.
She turned her back on me and slid into the pool of blackness, like a body sinking under water. I screamed, as much in anger as fright. I dropped the Kindle and jumped across the room, but she was already gone. I slammed into the wall and tore at the paint, shrieking obscenities, but it was over.

Andy must have heard that because I heard him call to me, heard him stumble down the hall. I kept throwing myself at the wall, shouting out some garbled version of what had happened, but Andy ignored me and ran to the cot. He grabbed up the soft, swathed form that lay there and rushed it to the lounge room, where candles threw a stronger light. He sobbed harshly.

I tried to explain that Leigh was still out there, but he didn't understand. He called an ambulance and said his daughter wasn't breathing. His words somersaulted with mine. He tried CPR, pressing and pumping the little cold chest. He wouldn't listen.

The baby looked like ours, but my Leigh never had a purple wrap like that, and this baby's ears weren't like Leigh's. They were all wrong.

About The Author
Jessica Nelson-Tyers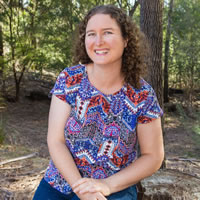 Jessica Nelson-Tyers has a Graduate Diploma in Professional Writing and a Bachelor of Arts (Philosophy). She likes to scribe the spooky, sinister and startling, and writes for both adults and kids. She's been previously published in Breach magazine and the First: Undertow anthology. Jessica is an Andromeda Spaceways Association member and co-edited Andromeda Spaceways Issue #67. She resides just beyond the borders of Eden, where snakes are the main form of wildlife. In this dimension, Jessica has two young daughters. As far as she knows, neither is a changeling. You can follow Jessica on Twitter <@JessNelsonTyers>.