By Katrina Pekin

I keep looking at my hands for signs of the kill. No blood. There's never blood. Killing witches is a blood-free task. Inject them with fire; burn them from the inside out. Absorb their power. Rinse and repeat.
Death isn't actually part of my routine. But it happens.
Rain pelts the back of my leather jacket and jeans as I cross the road to Allegory. New power pulses through me. The witch I stripped wasn't strong— that's why she died— but her power will keep me going another week or so.
I enter the bar, water shedding off me like oil. I head for the basement. At least there's no one here to stare at me. That's why I like Allegory; the only magical bar in Brookfield.
I approach the bartender and place my money on the counter. "Vodka. Whole bottle. One glass." Human alcohol doesn't have much effect on witches, but it helps me adjust when I absorb new power.
I take a seat in the booth under the stairs and drop my bag beside me. My knees twitch. The foreign power is settling in my veins. Soon it'll fade away, like the other times. I wish I could find some way to make it last.
The bartender arrives, pours my drink and leaves the bottle. I swallow a half glass in one hit. It burns going down. I pour another.
"Are you the witch hunter?"
I look up to find the owner of the voice. The woman standing beside me has wild hair a robust shade of orange and bright eyes that sparkle green. Pretty girl. Hell, gorgeous girl.

"Yeh," I say.
The woman slides into the booth opposite me. "How much?"
"Who's asking?"
"Greir. And you're Avina, right?"
People who find me always seem to know my name. "Who do you need taken care of?"
"A witch, of course," Greir says. "My Aunt Gale. Since my Uncle died, her power has overtaken her. Her spells are darkening. She's losing herself."
I finish my glass and refill it. "So she has to die because she's sad?"
"No!" Greir looks horrified. "No, I don't want her dead. Just her powers stripped. You can do that without killing her, can't you?"
I almost laugh. "And what's a witch without her power?"
"Dangerous," Greir says.
I search Greir's sweet features for an ulterior motive but find none. "Why are you doing this?"
"My Aunt raised me," her voice shakes. She looks down and flicks a falling tear off her cheek and then looks back at me. "It won't hurt her, will it?"
This time I do laugh. "Is it painful to strip her powers? No. Does it hurt? Yes."
"What will happen to her afterwards?"
"Maybe nothing," I shrug. "Maybe she jumps out of a window."
Greir's face remains even. "Her power will kill her if I don't help her."
She sounds like my mother talking to my Gran about me, justifying her decision to take my powers. "No, it won't."

"Yes, it will," Greir says.
"What makes you think so?" Curious girl makes me curious.
"A witch who sinks to using magic for her own gain is toxic to us all," Greir says. "Power becomes a drug and they never get enough. They always search for more. In the end, the search consumes them. I won't let that happen to my Aunt."
She's smart, this one. I like this one. I wonder if I'm smiling. I feel like I am.
"When can you do it?" Greir asks.
The power inside me slices across my chest like shards of ice. "By the end of this week," I say, fearing this new power inside me won't last as long as I'd estimated.
"What happens to her power?" Greir asks.
"I absorb it."
Greir is quiet for a moment. "So it's true," she says. "That you're a witch?"
"Does that matter?"
Greir's thin eyebrows wrinkle. "How are you alive? Mixing your power with another's is poison."
"Not if you're already stripped," I say. The vodka is loosening my lips. Maybe I'm getting more human. Maybe I just can't resist a pretty redhead.
"But a witch hunting witches?" Greir asks. "Like a chicken eating chicken. Seems... wrong."
I let the vodka burn my tongue a moment before swallowing. "It's not like that at all."
Greir's eyes flick back and forth in mine. Finally, she nods.
From my bag I pull out a pen and the dampened page of a blank contract. Simple thing. Name. Age. Victim. Price.
I sign the form then hand it to Greir. She signs. I set the paper flat on the table, take my silver poignard from inside my jacket and slice my forefinger. I press a dot of blood next to my signature then hand the knife to Greir and watch her do the same. She winces briefly as she cuts herself and presses a spot beside her name. She hands me back my knife then I wave my hand over our contract. A duplicate appears on top of the original.

"How do you get into this kind of job?" Greir asks.
I slide her the copy of our blood contract. "It's not a job." My voice is sharper than I planned. "A job and an obligation are two different things." I finish my last mouthful of vodka. "What do you want me to say?"
The contract shakes in Greir's hands. "Nothing, I guess."
I slip my knife back into my jacket and stand to leave. I'm still soaked. I'm cold. I'm tired. But as I walk past Greir, I feel her hand grasp mine. She's warm.
"I love my Aunt," Greir says. "I'm doing this to save her."
I roll my eyes, lean over, pull Greir's hair back and press my lips close to her ear. "Someone I loved did to me what you're asking me to do for you," I whisper. "Do I look like someone who's been saved?"

About The Author
Kat Pekin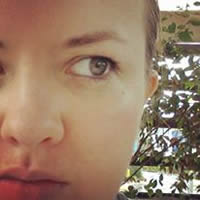 Kat Pekin is an emerging speculative fiction writer living and studying in the Western Suburbs of Brisbane. She recently completed a Bachelor's Degree in Creative and Professional writing with QUT and is currently undertaking an honours degree in the same field. Her work has been published in numerous anthologies and her stories have won, placed, or received High Commended in local and Australia wide writing competitions.