By Robert W Caldwell

Mom called me in for lunch. It was summer in 2162, and we were living on the outskirts of Astoria in the desert region. My father was asleep so he would be well rested for his long night doing agricultural work. Apart from the absence of clusters of scrub bushes, our yard was indistinguishable from the flat desert that stretched for miles as far as the eye could see. The stone well in front of our house was its only landmark.
As I made my way to the kitchen, I saw a faraway moving dot.
***
Ben Lund went to war at 18 years of age. He killed many men, and spent many days fighting through rain, snow, blistering wind, cold, and heat.

He had crossed the vastness of space aboard a ship called "Invicta." He had charged into guns at Omega, comrades falling all around him.
Every step took him closer to somewhere. He knew not where except he saw a house in the distance. A small, nondescript brown-roofed rectangle. He took step after step but seemed to make no progress.
***
I pointed out the man to Mom before we ate lunch. Afterward, I walked outside to look for him again. He had made progress and would be at our house soon.
Mom came out to join me.
"When he gets here, should we give him water from our well?" I asked.
"Of course. He'll be very thirsty. And I'm sure he'll be hungry. I'll give him food as well."
"But what if he is a bad man who robs us or kills us?"
"I don't think a bad man would approach us in the daytime. Bad men would come at night."
"But aren't we taking a risk?"
"In order to show love, you have to take risks. Besides, Rusty here will protect us if he is a bad man." Mom reached down to pet our brown dog.
***
"I'm no saint," Ben thought to himself as he approached the house. He looked at his scarred hands, "These hands have done terrible things." The screams still rang in his mind. And his back still hurt where his superior repeatedly hit him when he showed hesitation.
"If these people kill me, I deserve it."
***
The man made his way toward the well, limping. His hair was unkempt, his eyes piercing. His clothes dirty and wrinkled.
Mom wiped her hands on her apron, "May I help you?"
He looked surprised and muttered, "Could I have just one drink from your well, Mam?"
"You can have all you want. You look terrible. I'm sure you're also famished. I'll get some food for you too."
"I think you ought to know. I was a soldier in the Kraton uprising. I fought that excuse for a war that was genocide. I didn't have the guts to disobey orders. I had to strangle people. You have every right to kill me as I killed many of your people."
I was shocked and felt hate welling up in me. Mom put a hand on him and said softly, "The war is past. We all were scared by it one way or another. You are welcome here. Now, Bobby, fetch a bucket of water from the well for this man. And you, what's your name? Come in here and sit at the table."
"Ben, Mam. But you don't have to..."
"No buts. You obviously have not eaten in a while, and we have plenty."
I knew different — that we didn't have much and that his eating might mean my not getting any dinner. But I dutifully got a bucket and fetched some water. When I arrived back I was surprised to hear Ben laughing in a bass voice. "I would not have described this land in quite those terms, but I have to admit you are right."
"We have planted some trees and hope that in a few years things will look better. It is prettier in late summer when the crops in the fields are at their peak. Still, I wouldn't change anything."
"Wish I could say the same," said Ben, petting Rusty — who lay sprawled on the ground next to Ben's chair. I felt astonished because Rusty never liked strangers.

The rest of the meal passed with small talk. After a while Ben stood up and said, "I'd better be moving on."
"You're welcome to stay if you like," said my mother. I discovered that I hoped he would say yes.

"You have been very kind. Much more gracious than I expected. I've got to move on, though. I'm going to meet one of my army buddies."

"Just keep going that direction and you'll reach Astoria." My mother pointed.

Ben looked surprised. "I thought it was that way." He pointed a right angle from my mother's direction. "I'm glad you corrected me. I hope the folk in Astoria are as kind as you."
"They are," said Mom.
Ben petted Rusty one last time and walked out through the back door. I ran to the door to watch him walk away — but saw nothing. I ran outside and looked out across the vast stretch of desert in the direction toward Astoria and still saw nothing. I circled the house looking out all around. Nothing.
I ran inside and shouted, "Mom, Ben has vanished! He just disappeared into thin air."
"You're being silly," she said, putting down a dish and stepping outside. I followed. She looked around at the desert. "Well I'll be," she said.
"How can that be, Mom? How can he vanish? He couldn't run fast enough. There are no holes he could have fallen in."
"Sometimes, when you help others," Mom said, "it helps them to move on to the next level. That's the only thing I can think of." She shrugged and walked back in.
Rusty ran around in circles, stopping now and then to chase his tail.
"Now come in and help me with the dishes," Mom shouted at me from the kitchen.
The trees around our house grew to be huge and healthy. Over the years I saw the desert gradually transform into an emerald landscape.

About the Author
Robert Caldwell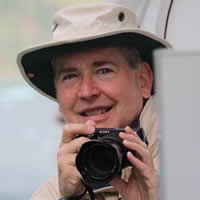 Robert writes about himself:
You can also find this story in my collection The Other Side of Forever, on Amazon.
I grew up in Birmingham, Alabama. I have a cat that sometimes gets in the way of my typing. I am also a photographer. At 48 years of age I was diagnosed with Asperger's Syndrome, a high functioning form of autism. Recently I have become a self advocate.
I graduated from Huntingdon College in 1981. I studied photography at night classes held at the University of Alabama in Birmingham. I got an MS degree in Journalism at Murray State University. Then I worked at newspapers and publications without much success before I went to Portfolio Center in Atlanta in 1994 to study Commercial Photography. After one year I left because I did not like the teachers or their teaching methods. Not having very much success finding commercial photography jobs I worked at several retail establishments in Atlanta until I decided to move back to Birmingham Alabama in 2002. I got a degree in Web Design in 2007 From Jefferson State Community College and once again couldn't find work. I have found a new purpose in life since my diagnoses. I am a Governor appointee on the Alabama Interagency Autism Coordinating Council and the Regional Autism Network as well as volunteering for several activist organizations, all well being a caregiver for my Mother.
Growing up autistic I always had a different angle on things. That may be why my stories are so strange.
Previously in Antipodeon I've had "A day In Caaatahlona 1 City Beneath The Waves," AntipodeanSF February 2018
I've also had the epic poem "The Blossom War," published in 18th Wall's anthology, The Dragon Lord's Library.
I had a short story "Silver Image," published in the Daguerreian Annual 2015.