By Brian Biswas

Venus is the goddess of love and Venus is the planet of love. When I slip beneath the clouds that shroud the second planet from our sun, I am both surprised and pleased to find a terrain covered with forests and vegetation — and overflowing with animal life. Surprised, since unmanned probes indicated a barren world covered with mountains of molten lava. Pleased, since this means my stay will not be unpleasant.
The surface of Venus, as I behold it, consists of gently rolling plains that stretch to the horizon. The winds, which roared in the upper atmosphere, are a mere whisper at the surface. This is a lightly cratered world — meteorites quickly burn up in the dense sulfuric atmosphere — and the nearby craters I see are both enormous and shallow. There are two highland areas: Ishtar Terra in the north and Aphrodite Terra in the south. Both are the size of large continents. There is also an enormous volcanic mountain range, Maxwell Montes.

In 1686 the Frenchman Bernard de Fontenelle wrote that the inhabitants of Venus were a small black race, burned by the sun, full of wit and fire, playing lutes with gay abandon, and always in love.
The nymphs, when I see them, are tall, white as snow, and reclusive. I see no signs of musical instruments, but they sing with a sweet, plaintive wail. They dart away when I emerge, their eyes wide with fright.
There is one maiden — I name her Ariel — who is not shy like the others. She gazes at me as if entranced. Most likely she is: I am her first human contact. She wears a white dress and sandals. Her complexion is rosy, her smile enticing. Her long blond hair falls to a thin waist. The beauty of her light-green eyes is intoxicating, and I call out her name as I draw near.
Alas, a fateful mistake! She has never heard a human voice — or those airy syllables Ar-i-el — and with a cry she turns and flees across the Venusian plain. I follow her for as long as I am able, but the distance between us slowly increases. I think she thinks it is a game, for several times she looks back and laughs.
I realise it is growing hotter. I look around. Vegetation vanishes and the forests melt away into nothingness. The air, once light and fresh, is now heavy and almost unbreathable. Nearby, volcanoes erupt, oozing lava into pancake-like puddles on endless stretches of craters and canyons and desiccated plains. I have deceived myself. Venus is a long-dead world and the fair Ariel nothing but an illusion.
Or perhaps not. Perhaps Ariel and her sister nymphs exist, and I am but an illusion to them.

About The Author
Brian Biswas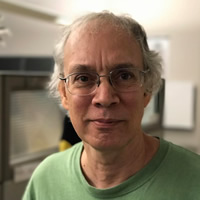 Brian Biswas has published over sixty short stories in various literary magazines. He is listed in the International Writers and Authors Who's Who, Marquis Who's Who, and the Internet Speculative Fiction Database. Brian's most recent publications are in Perihelion Science Fiction, Cafe, Irreal, Crimson Streets, and AntipodeanSF. An anthology, "A Betrayal and Other Stories," will be released later this year by Rogue Star Press.
You can read more of Brian's work at his website: <www.brianbiswas.com>.
Or follow him on Twitter: @brianbiswas