By Louise Zedda-Sampson

'Hey, neighbour, mornin'!'

Tom leant on the back fence, his smile revealing more missing teeth than I remembered and today there was a faint shiner circling his left eye. The rich and time-honoured scent of Marlboro cigarettes wafted over with his greeting.

Tom was never friendly. He'd also caught me off guard in my own back yard, dressed for the washing line in pink-and-white bunny pyjamas and fluffy slippers. I moved the washing basket from front to hip.
Last time Tom spoke to me he had our cat trapped in a cage. Said he was 'sick of it shittin' on the wife's fuckin' flowers an' couldn't stand her whining.'

Yep, a real charmer. Word had it his last stint in prison was for murder. I shuddered, hoping my thoughts weren't showing. He was a pretty scary dude.
'Writing a book?' he asked, still smiling.

'Umm, yes. Yes I am,' I said, washing, attire and fear forgotten, feeling just a little flattered.
'I found a page of writing,' he said.
I shifted the basket nervously, remembering the story I'd been writing. Alarm bells clanged.
'It was out front, on the street. Must've come from the bin. Yeah. Rubbish day.'
The washing basket was suddenly very heavy. Why hadn't I used the shredder? The story was about Mrs M and her demon-possessed —
'It was about a cat.'
— cat. Oh Shit! Mrs M was based on his wife; the cat based on him. The cat stalked the neighbourhood for something to kill, rats, mice, even small dogs, then Mrs M would —
'In a garden.'
— cook it and feed it to the neighbours. Oh shit, oh shit, oh shit.
He leaned further over the fence. I stepped further back.
'I just wanted to say…'
My mind raced through the manuscript pages. He'd know it was about him! The blood, the gore, the eating of the rats named after his three children—
'Yes?' I said, an octave or two higher than normal. My hands gripped the basket so tightly no blood was getting to my fingers. My knees were about to give way.
'It was good,' he said. 'I liked how you described the cat sitting in the garden among the flowers, eh. Almost made me like cats.'

My mouth hung open in reply.

'Hey. Tell me when the book comes out, will ya? Anyways, bye!' And he was gone, blue sky and a Marlboro cloud above the fence in his place.
I ran inside, heart thudding, and read the story. There was only one page that mentioned a garden, or anything remotely pleasant. Tom must have had the only page that wasn't sinister. I laughed with relief as I read the last line: 'Take that,' said Tom [the cat], as he sharpened his claws on Mrs M's bloodied face. 'You'll never trap me again!'

About The Author
Louise Zedda-Sampson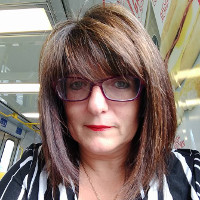 Louise Zedda-Sampson is a freelance writer and editor from Melbourne, Australia. She writes short stories and flash fiction that explore the human condition. Her fiction has been found in university publications, anthologies and magazines and her feature articles have been published in magazines and journals.
Louise has a Diploma of Professional Writing and Editing and updates her editing skills regularly through attending industry courses and seminars. She edits a broad range of fiction and non-fiction and specialises in structural editing for both novice and experienced authors.
Louise also runs writers' retreat in the hills of the Dandenong Ranges.
Visit Louise at <www.novelsolutions.com.au>.