By Robert Caldwell

Weeano swam in darting motions side to side, studying her reflection in the mirror. Unsatisfied with the degree from which she deviated the dolphin ideal of perfection, she rubbed her head against the make-up wall. She jerked over toward the mirror to take another look and — slightly more satisfied with her complexion than before — decided that that was the best she could do, so she squiggled over to the perfume shower and pulled the lever to let a fine mist fall on her.
Weeano jumped over the wall to the main room where her father Ahnhoor was at work on a computer, hitting typewriter-like keys with his snout.
Weeano said, "Good morning, father!"

The large, dark and scarred patriarch squalled, "Pollution levels have gone up another hoor! If this keeps up we might have to do an intervention." When he hit keys, gears moved causing numbers to change on dials.
"I don't understand why they haven't done that already," said Weeano.
"'Give them time,' says the council, a bunch of hoopjumpers. But those despicable humans just keep getting worse."
"I'm going to have lunch with Veeluny. We are going to greet Knieebo when he lands."

Weeano dashed out the swinging door into a chute where the fast stream of water carried her along. She chose left, right or centre at a few of the forks and ended up at the plaza. Swimming out into the wide expanse of water with the blue of the glass dome far overhead, Weeano moved swiftly toward Northen Park where she found her friend Veeluny already propped on a scute looking out through the glass toward the spaceport. Weeano envied her friend's perfect color, the shape of her fin, the overall sleek dolphin lines and when she turned around to squeak a hello — those dark eyes.
"You're up early," said Weeano.
Veeluny looked at her with eyes like sandy water, "Of course. I can't wait to see Knieebo. I hardly slept." Both girls blew steam out of their blowholes.
"I wish he could stay longer," said Weeano.
"I wish he would take me to Halleeesee," said Veeluny.
Weeano remained in the water so that she could look up and watch Knieebos descend. Out of sight above her, his flying saucer could be landing on the surface that very nee before diving and sinking toward Caaatahlona. She didn't have long to wait. After fifteen glogs of occasional squeaks of small talk Weeano saw a dark spot appear. The dot grew larger as the spacecraft descended toward the city.
Weeano jumped onto the scute next to her friend to continue following its descent. When the craft came to a complete stop they both jumped out of the scutes and dashed to the chute. The fast-moving water carried them to the port.
They waited while the dolphins got off and greeted the crew when they arrived. They greeted Knieebo and four other males with wails.

"Hello, Weeano," called Knieebo, "Looks like nothing's changed."
"Just more pollution in the oceans," she replied, "That is what my father is always saying."
"And it is true," Knieebo replied curtly. "Ah, Veeluny. What's up with you?"
She giggled and replied, "Phoooinoi is getting wax treatments so that she can swim faster…"
Gnobvuu, a small slightly pale male with a stubbed nose spoke to Weeano, "Hello, Weeano. It's been a while."
"Yes it has," she muttered disinterestedly while she gazed at Knieebo.
Gnobvuu continued, "The pollution is worse. I could sense it as soon as we entered the water."
"Yeah, right," said Weeano.
"Well I'm very hungry after the long voyage. I'll put my stuff away and meet you in the cafeteria in five waves." Knieebo grabbed his carry box and took off. His whole party followed. Gnobvuu waved his tail at Weeano before zipping away to catch up.
Weeano and Veeluny headed for a chute, got in, and glided along to the cafeteria to wait for them. Soon Knieebo and his party showed up.

They trod water in the middle of a pool while machines tossed fish for them to catch. "Work is going along fine on VaanKoor City," said Knieebo who jumped into the air to catch a grouper.
"Do you have any images of it?" asked Veeluny. She floated in front of the sardine pitcher machine and caught a tasty morsel.
"Yes, I'll have to show them to you when I get unpacked." He shifted so as to catch and eat a sea bass. "Soon all the dolphins will be able to live on Haleeessee."

"Oh that would be so cool to move to another planet," said Weeano catching a cod. But Knieebo and Veeluny ignored her, carrying on in animated conversation.
"You're out of his league." Gnobvuu swam over next to her. "I know how you feel. I'm in love with Veeluny but she pays no attention to me."
Veeluny and Knieebo left to go to the ball pool for a game. Weeano and Gnobvuu were left looking at each other in awkward silence.

Finally, Gnobvuu said, "Want to go and play a game of ball with me?"
"Sure, why not?" They both slowly swam to the ball court and picked a pool far away from Veeluny and Knieebo.

About The Author
Robert Caldwell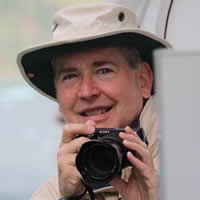 Robert writes about himself:
I grew up in Birmingham, Alabama. I have a cat that sometimes gets in the way of my typing. I am also a photographer. At 48 years of age I was diagnosed with Asperger's Syndrome, a high functioning form of autism. Recently I have become a self advocate.
I graduated from Huntingdon College in 1981. I studied photography at night classes held at the University of Alabama in Birmingham. I got an MS degree in Journalism at Murray State University. Then I worked at newspapers and publications without much success before I went to Portfolio Center in Atlanta in 1994 to study Commercial Photography. After one year I left because I did not like the teachers or their teaching methods. Not having very much success finding commercial photography jobs I worked at several retail establishments in Atlanta until I decided to move back to Birmingham Alabama in 2002. I got a degree in Web Design in 2007 From Jefferson State Community College and once again couldn't find work. I have found a new purpose in life since my diagnoses. I am a Governor appointee on the Alabama Interagency Autism Coordinating Council and the Regional Autism Network as well as volunteering for several activist organizations, all well being a caregiver for my Mother.
Growing up autistic I always had a different angle on things. That may be why my stories are so strange.
"The Blossom War," was published in 18th Wall's anthology, The Dragon Lord's Library.
I put together a bunch of stories I had been working on for years into a book called, The Other Side of Forever, which I published on Amazon.