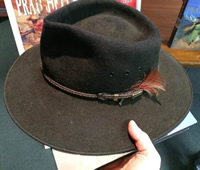 I am pleased to once again be a contributor to AntipodeanSF with my latest piece.
I write flash fiction for competitions and I take a dive down a rabbit hole with NaNoWriMo. Believe it or not I actually wrote 104k of two novels in my first one. They are complete and have several rejections each so far. I might tackle another novel framework this year.
I have a growing collection of short stories published in various anthologies which I consider my practice runs. This is an odd but effective way of learning where to and where not to submit my work.
I regularly participate in online writing challenges and I subscribe to a number of useful organisations and blogs. My own blog is a little ad hoc and sporadic but I like playing with it. I study all the time and will probably keel over if I ever stop. I also make art and have just begun to explore combining my two loves, of writing and art, in a graphic way.
This bio is accompanied by a photograph of me wearing Terry Pratchett's actual hat.