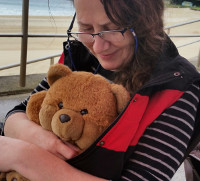 Estelle Owen lives on the Mid North Coast.
If asked she will happily babysit toys, dogs and kids for her friends.
She often finds herself awake at 3am jotting down a dream or idea for a story.
With the brave notion of living fearlessly she recently tried hang gliding and has started to share her odd little stories.