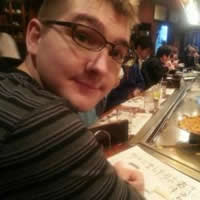 Author, teacher, historian, veteran. J.M. Williams is a Fantasy and Sci-Fi author who is unabashedly into anything pulp. More than twenty-five of his short stories have been accepted for publication in a wide range of venues including Flash Fiction Magazine, Bards and Sages, and the Uprising Review.
Early next year, his first fantasy novella, "The Nightingale," will be published by Fantasia Divinity. His episodic fantasy series "Call of the Guardian" will be releasing on Fiction Vortex in the coming months as well.
Williams lives in Korea with his wife and 10 cats—and can be found online at <www.jmwilliams.site>.