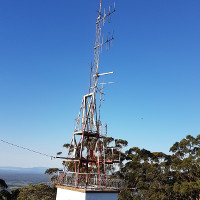 G'day flash loving folks, you're about to launch into an adventure at AntipodeanSF, the online magazine that's devoted to the regular monthly publication of fabulous and original science-fiction, fantasy, or horror mini-stories of about 500–1000 words each, with occasional feature stories of 2000 words and beyond.
AntipodeanSF will entertain you, yet won't take hours to read.
Please spend a few moments to read this month's stories. Alternatively, listen to all of them on the AntipodeanSF Radio Show, weekly, as per the schedule.
The AntipodeanSF Radio Show is also broadcast via terrestrial radio waves, from Mt Yarrahapinni, on the mid-north coast of NSW on Saturday evenings at 20:30. You can listen in along the coast from Pt Macquarie in the south, to Coffs Harbour in the north, 105.9FM, in stereo. Or simply download the podcast!
AntipodeanSF is also made available in e-book format for reading on your i-phone, i-pod, other mobile phone, or PDA device. Read AntipodeanSF anywhere!
Nuke.