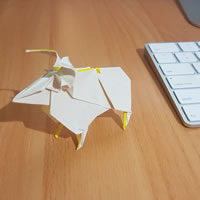 G'day flash loving folks, you're about to launch into an adventure at AntipodeanSF, the online magazine that's devoted to the regular monthly publication of fabulous and original science-fiction, fantasy, or horror mini-stories of about 500–1000 words each, with occasional feature stories of 2000 words and beyond — and it's been online now for almost two thirds of a Gigasecond.
AntipodeanSF will entertain you, yet won't take hours to read.
Please spend a few moments to read this month's stories. Alternatively, listen to all of them on the AntipodeanSF Radio Show, weekly, as per the schedule.
AntipodeanSF is also made available in e-book format for reading on your i-phone, i-pod, other mobile phone, or PDA device. Read AntipodeanSF anywhere!
That's right, this issue marks 20 years to the month since the first issue of AntipodeanSF online, which featured but two stories. My submission queue and the number of stories in each monthly magazine grew rather lengthy in the space of that first year, and it wasn't long before we began publishing ten stories a month. In celebration of this metre-stone, this issue has 20 stories for your enjoyment.
I have a bunch of thanks to hand out. So here they are, just for you: sincere thanks to all of the authors, illustrators, reviewers, background helpers, and narrators who've been part of this venture along the way. This would not have been possible without your contributions. In a rough back-of-the-email calculation, I've published at least 1500 authors, perhaps more up till this time. And there will be more. That Gigasecond looms...
And as for the origami sheep, well, let me explain. I watched Blade Runner 2049 a little while back, and spied Gaff's sheep. Did you see it? I just had to make one — fitting really, considering the Blade Runner movies are based on a novel called "Do Androids Dream Of Electric Sheep." But why is it carefully framed beside a computer keyboard? Well, that's symbolic too. Ever since I used my first computer way, way back in 1974, I've strived to bring my interest in electronic devices together with the wonder of speculative storytelling.
Nuke.