By Laurie Bell

Terrie scowled. Dammit — everything was wrong. They weren't sticking to the plan. He was surprised that the intensity of his stare had not set the panel's screen alight.
Nothing. There was no movement. The gate was still closed. The red light on his panel continued to flash intermittently.
He blinked as a message appeared on his eyescreen.
He stumbled from his chair, vision blurring with interference from the main display panel.
His eyescreen recalibrated against the solid grey of the carpet. The message came into focus.
Ran into a little trouble. Insertion delayed. Stand by.
Stand by? Terrie pressed a finger to his eyeball to dismiss the private message. He was the one stuck out in the open; he was the one at risk of recognition. Delay? They had to go in now. The longer they waited the greater the chances of —
The intruder alert blared from his desk panel. Terrie dove on it, slamming his hand repeatedly on the button to silence the alarm. Too late—he'd made a mistake standing up to read his eyescreen message. That signal would have alerted security.
It was all falling apart.
A flicker of movement drew his eyes to the main display panel and the corridor with the closed gate.
Two figures dressed in black appeared and disappeared — the cloaking devices they wore failing, just as he'd warned them. The two criminals had assured him they would be fine despite the recent upgrades to the scanners. Terrie had never in his life wished to be more wrong than at that very moment. They were going to get caught — he was going to get caught. The big score was starting to look like nothing more than a hand full of sand. He had to get out.
As he ran to the door, his eyescreen flickered again. Another message.
Get ready.
Ready? They were as good as caught. Get ready for what?
Initiate shutdown... three... two... one... now!
Terrie threw his body back across the room to slam his hand on the release switch. The blinking red light turned green. He watched in disbelief as it stayed lit. They'd done it.
Operation complete.
The light flashed and returned to a blood-red blinking. Terrie waited, his breath caught in his throat as he listened for the sound of booted feet, another alarm, or a shout. But there was nothing.
He sat, frozen in his seat, for the remainder of his shift. Terrie had no idea if the plan had worked, or whether they'd survived their trip through the airlock. He received no further messages.
***
Three days later, sitting anxious in a bar, it occurred to Terrie that the two criminals might not show up. If they were floating in the dark vacuum surrounding the homeship, he would never know about it. Then again they might have escaped and gone — taking the gold with them.
"Buy a fella a drink, yeah?"
Terrie's body deflated as the two criminals sat down on either side of his chair. The one who spoke was compact and muscular. His partner — possibly his wife — was blond, busty and expressionless. "Sure," Terrie said, wanting to add he was glad they were both alive.
"Were you worried about us?" the woman asked. She didn't smile.
Terrie had never seen her smile. He tilted his head. "Would it matter if I was?"
She stared. A moment later she blinked.
That was the only answer Terrie was going to get.
The man shot him a knowing glance and placed a key beside Terrie's hand.
Terrie stared into the man's stark, handsome face — wondering what the key was for.
"Your share," said the man. "After today you won't see us again."
Terrie nodded. They drank in silence. "What will you do now?"
The striking woman snorted. The man leaned forward. His eyes didn't leave Terrie's face. "Best not to ask."
"Stay safe," Terrie told them after their drinks were consumed.
In a blink they were gone.
Terrie tapped the key against the table. The metal was cold in his hand even though he'd held it for the last few minutes. He pushed back his chair and stood. He was rich. Now, to collect his gold and enact the second and final step of his plan. It was time to leave.
He thought about the two criminals. They seemed so in sync with each other. Clearly, they'd worked together a long time. The risks and rewards involved in their choice of career had to make it hard to trust anyone they came in contact with. They'd kept Terrie at a distance for the entire length of their mission. Terrie thought of his silent apartment and of his empty refrigerator. It would be nice — to have someone like that.
"Instructor Terrie Millar! Put your hands on the table."
The sight of the two security inspectors sent a shard of ice into Terrie's heart. He did as ordered. He had no choice. The bar fell silent as Terrie's hands were cuffed behind his back. He could feel eyes all over him, and he hated their incorrect speculations.
A flash in his right eye delivered a message to his eyescreen. It disappeared a millisecond later, so fast he wasn't sure he'd even seen it.
We care — hold tight — we'll see you soon.
Terrie smothered a smile. Maybe he wasn't as alone as he thought.

About The Author
Laurie Bell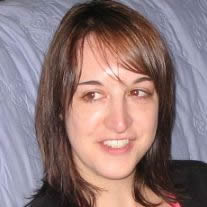 Laurie Bell lives in Melbourne, Australia. She was that girl you found with her nose always buried in a book. She has been writing ever since she was a little girl and first picked up a pen. From books to short stories, radio plays to snippets of ideas and reading them aloud to anyone who will listen. You can read more of her work on her blog <www.solothefirst.wordpress.com> Look for her on Facebook <www.facebook.com/WriterLaurieBell/?fref=ts> or Twitter: <@LaurienotLori>