SF Quotes
" There's no real objection to escapism, in the right places… We all want to escape occasionally. But science fiction is often very far from escapism, in fact you might say that science fiction is escape into reality… It's a fiction which does concern itself with real issues: the origin of man; our future. In fact I can't think of any form of literature which is more concerned with real issues, reality. "
Arthur C. Clarke
Facebook AntiSF
Login Form
Why Not Visit

Do you like your SF in audio?
Of course you do. Well, why not visit Beam Me Up Podcast and radio show, often featuring selected stories from AntipodeanSF, run by your host Paul Cole of WRFR.
Next Issue
Cappuccino Twilight
By Ed Errington
The Strike
By Grant Terry
The Goodbye
By E A Fow

The Intercept
By Luis Shalako
The Facts In The Case of K Klown
By Anthony Owens
Searching
By Mark Tremble
Art, Ink
By Jason Fischer & Martin Livings
End of An Era
by Antoinette Rydyr
Popular Stories
Wesley Parish is an SF fan from early childhood. Born in PNG, he enjoys reading about humans in strange cultures and circumstances; his favourite SF authors include Ursula Le Guin, Fritz Lieber, Phillip K. Dick, J.G. Ballard and Frank Herbert. He lives in Christchurch, NZ, is an unemployed Java and C programmer, and has recently decided to become a mad ukuleleist, flautist and trombonist, and would love to revert to being the mad fiddler and pedal steel guitarist.. "Where oh where has my little pedal steel got to ... ?"

New Books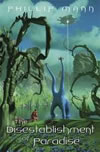 The Disestablishment of Paradise
Phillip Mann
An ecological SF thriller from one of the greats of the genre, with elements of Avatar and Silent Running.
Something has gone wrong on the planet of Paradise.
The human settlers - farmers and scientists - are finding that their crops won't grow and their lives are becoming more and more dangerous. The indigenous plant life - never entirely safe - is changing in unpredictable ways, while the imported plantings wither and die. And so the order is given - Paradise will be abandoned. All personnel will be removed and reassigned. And all human presence on the planet will be disestablished.
Read more...