SF Quotes
" If your God is everywhere, if He is always watching, why should your people make houses to go to worship Him? Faced with an all-seeing, everywhere-being God, I would think what is needed is a place to hide. "
Tad Williams, Caliban's Hour
Facebook AntiSF
Login Form
Why Not Visit

Do you like your SF in audio?
Of course you do. Well, why not visit Beam Me Up Podcast and radio show, often featuring selected stories from AntipodeanSF, run by your host Paul Cole of WRFR.
Next Issue
Cappuccino Twilight
By Ed Errington
The Strike
By Grant Terry
The Goodbye
By E A Fow

The Intercept
By Luis Shalako
The Facts In The Case of K Klown
By Anthony Owens
Searching
By Mark Tremble
Art, Ink
By Jason Fischer & Martin Livings
End of An Era
by Antoinette Rydyr
Popular Stories
The Stories
I, alone, saw the tree kill the boy.
The little guy was just standing there, leaning up against the trunk, out of breath. They were all playing hide and seek on the school oval, and he'd dashed over into the bush as soon as the counting started.
I don't know much about trees, but it was just right for hiding behind. A bit like a gum tree, but still different. Massive trunk.
Read more...

Earth
Some Time in the Future
It is a quiet area now.
The motorcycle gang that once hung around is gone, and the street kids have moved over about eight blocks or more to safety. The brothel isn't there any more, either. Nor are the drug dealers, or the several corrupt cops that had made life so easy for them.

Read more...
You don't want to stare too long into that curtain or gaze too intently at the pattern printed upon it, for you may fall into its weave and find yourself lost in an undulating sea of coloured thread, a place where hidden things are animated in the gaps between the seams.

Read more...

Once upon a space-time there was a bloke called ?&*$?#@. Well, he wasn't exactly a bloke, more an entity. Sort of an ephemeral thing, not at all human.

Read more...
The men had worked all morning. On the eastern side, the once-thick shadow cast by a mossy stone-wall had receded and disappeared.

Read more...

Ani had started with plans for a redberry tree, but the resulting runty bush and the shrivelled black things hanging from it were nothing like the beautiful explosion of red lush berriness she had envisioned. That was her first lesson about design-your-own genome kits; since then she had tried a couple of other brands, but none of them was as "fool proof" as it advertised.

Read more...
New Books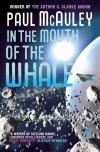 In the Mouth of the Whale

Paul McAuley

A war between human and posthuman civilisations is about to erupt - and it will determine not only the future of the human species, but also its past!

Fomalhaut was first colonised by the posthuman Quick, who established an archipelago of thistledown cities and edenic worldlets within the star's vast dust belt. Their peaceful, decadent civilisation was swiftly conquered by a band of ruthless, aggressive, unreconstructed humans who call themselves the True, then, a century before, the True beat back an advance party of Ghosts, a posthuman cult which colonised the nearby system of Beta Hydri after being driven from the Solar System a thousand years ago.
Read more...