SF Quotes
" Science fiction writers foresee the inevitable, and although problems and catastrophes may be inevitable, solutions are not. "
Isaac Asimov
Facebook AntiSF
Login Form
Why Not Visit

Do you like your SF in audio?
Of course you do. Well, why not visit Beam Me Up Podcast and radio show, often featuring selected stories from AntipodeanSF, run by your host Paul Cole of WRFR.
Next Issue
Cappuccino Twilight
By Ed Errington
The Strike
By Grant Terry
The Goodbye
By E A Fow

The Intercept
By Luis Shalako
The Facts In The Case of K Klown
By Anthony Owens
Searching
By Mark Tremble
Art, Ink
By Jason Fischer & Martin Livings
End of An Era
by Antoinette Rydyr
Popular Stories
Vide
SFnal motes, mites and sprites...
| | | | |
| --- | --- | --- | --- |
| Bitter Seeds - by Ian Tregillis | | | |
Bitter Seeds by Ian Tregillis, Orbit, August 2012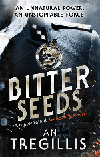 Blurbs for books are an interesting phenomenon. Sometimes meaninglessly positive, occasionally decipherable only after you've read the book, and at their best tantalisingly cryptic. What blurbs usually don't do is encapsulate the core of a story in one pithy fragment of a sentence. Imagine then this reviewer's surprise when he received his copy of the debut novel by Ian Tregillis, Bitter Seeds, and read Cory Doctorow's blurb:
'Mad English warlocks battling twisted Nazi psychics'
Read more...
New Books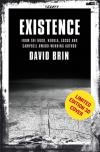 Existence - Limited Edition 3D Cover

David Brin

A groundbreaking, mind-blowingly ambitious new science fiction novel from the multiple award-winning classic author David Brin.

A turning point is upon us. A new flood is coming...

Decades from now, an alien artefact is plucked from Earth's Orbit by a galactic garbage trawler. And it will shed light on the fate of humanity itself.

We've always longed to know our destiny. We've always seen the end coming. But with so many different ways to be annihilated, how will we survive?
Read more...