SF Quotes
" The Three Laws Of Robotics
A robot may not injure a human being or, through inaction, allow a human being to come to harm.
A robot must obey orders given to it by human beings, except where such orders would conflict with the First Law.
A robot must protect its own existence as long as such protection does not conflict with the First or Second Law
"
Isaac Asimov
Facebook AntiSF
Login Form
Why Not Visit

Do you like your SF in audio?
Of course you do. Well, why not visit Beam Me Up Podcast and radio show, often featuring selected stories from AntipodeanSF, run by your host Paul Cole of WRFR.
Next Issue
Cappuccino Twilight
By Ed Errington
The Strike
By Grant Terry
The Goodbye
By E A Fow

The Intercept
By Luis Shalako
The Facts In The Case of K Klown
By Anthony Owens
Searching
By Mark Tremble
Art, Ink
By Jason Fischer & Martin Livings
End of An Era
by Antoinette Rydyr
Popular Stories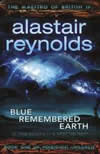 Blue Remembered Earth

Alastair Reynolds

BLUE REMEMBERED EARTH is the first volume in a monumental trilogy tracing the Akinya family across more than ten thousand years of future history...out beyond the solar system, into interstellar space and the dawn of galactic society.

One hundred and fifty years from now, in a world where Africa is the dominant technological and economic power and where crime, war, disease and poverty have been banished to history, Geoffrey Akinya wants only one thing: to be left in peace, so that he can continue his studies into the elephants of the Amboseli basin. But Geoffrey's family, the vast Akinya business empire, has other plans.

After the death of Eunice, Geoffrey's grandmother, erstwhile space explorer and entrepreneur, something awkward has come to light on the Moon and Geoffrey is tasked - well, blackmailed, really - to go up there and make sure the family's name stays suitably unblemished. But little does Geoffrey realise - or anyone else in the family, for that matter - what he's about to unravel.

Eunice's ashes have already have been scattered in sight of Kilimanjaro. But the secrets she died with are about to come back out into the open and they could change everything. Or shatter this near-utopia into shards

ABOUT THE AUTHOR

Alastair Reynolds was born in Barry, South Wales. He spent several years in Holland working for ESA he returned to Wales. He studied at Newcastle and St Andrews Universities and has a Ph.D. in astronomy.

Previous Books:

Terminal World (Bfmt 9780575088504 Aug 11);

Zima Blue;

Century Rain;

House of Suns;

Pushing Ice;

Absolution Gap



New Books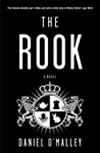 The Rook
Daniel O'Malley
?Dear You, The body you are wearing used to be mine.?
So begins the letter Myfanwy Thomas is holding when she awakes in a London park surrounded by corpses -- all wearing latex gloves (and startled expressions). With no memory of who she is or how she got there, the only way she can discover her identity and escape those who want to destroy her is to follow the instructions in a series of letters left behind by her former self.
She learns that she is a Rook, a high-level operative in the Checquy, a secret government agency that protects the world against supernatural threats while keeping the populace in the dark. In her quest to save herself and unmask a traitor, Myfanwy must learn to harness her own rare, potentially deadly supernatural ability, and thwart a conspiracy more vast than she could ever have imagined.
Read more...