SF Quotes
" We should grant power over affairs only to those who are reluctant to hold it and then only under conditions that increase the reluctance. "
Frank Herbert, Chapterhouse: Dune
Facebook AntiSF
Login Form
Why Not Visit

Do you like your SF in audio?
Of course you do. Well, why not visit Beam Me Up Podcast and radio show, often featuring selected stories from AntipodeanSF, run by your host Paul Cole of WRFR.
Next Issue
Cappuccino Twilight
By Ed Errington
The Strike
By Grant Terry
The Goodbye
By E A Fow

The Intercept
By Luis Shalako
The Facts In The Case of K Klown
By Anthony Owens
Searching
By Mark Tremble
Art, Ink
By Jason Fischer & Martin Livings
End of An Era
by Antoinette Rydyr
Popular Stories
| | | | |
| --- | --- | --- | --- |
| The Song Of The Quarkbeast | | | |
The Song of the Quarkbeast
A Last Dragonslayer Novel
The second in Jasper Fforde's Dragonslayer trilogy for younger readers, this is magical, hilarious and irreverent writing.
As the background Wizidrical Power slowly builds after the Big Magic, King Snodd IV of Hereford realises the man who controls Magic controls almost anything.
But one person stands between him and his plans for power and riches: Jennifer Strange, sixteen-year-old acting manager of Kazam.
It may involve a trip on a magic carpet at the speed of sound to the Troll Wall, it may involve a second Quarkbeast sniffing around town. It might also involve the mysterious Transient Moose, and a powerless sorceress named Once Magnificent Boo. But one thing is certain: Jennifer Strange and her faithful assistant Tiger Prawns will not relinquish the noble powers of magic to big business and commerce without a fight.
About the Author
Jasper Fforde traded a varied career in the film industry for staring out of the window and chewing the end of a pencil. He lives and works in Wales and has a passion for aviation.
Previous Books:
The Eyre Affair (9780340733561), Lost in a Good Book (9780340733578), The Well Of Lost Plots (9780340825938), Something Rotten (9780340825952), The Big Over Easy (9780340897102), The Fourth Bear (9780340835739), First Among Sequels (9780340752029), Shades of Grey (9780340963050), The Last Dragonslayer (9781444707205 September 2011), Song of the Quarkbeast (9781444707236 November 2011).
New Books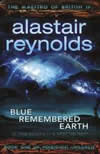 Blue Remembered Earth

Alastair Reynolds

BLUE REMEMBERED EARTH is the first volume in a monumental trilogy tracing the Akinya family across more than ten thousand years of future history...out beyond the solar system, into interstellar space and the dawn of galactic society.
Read more...