SF Quotes
" If your God is everywhere, if He is always watching, why should your people make houses to go to worship Him? Faced with an all-seeing, everywhere-being God, I would think what is needed is a place to hide. "
Tad Williams, Caliban's Hour
Facebook AntiSF
Login Form
Why Not Visit

Do you like your SF in audio?
Of course you do. Well, why not visit Beam Me Up Podcast and radio show, often featuring selected stories from AntipodeanSF, run by your host Paul Cole of WRFR.
Next Issue
Cappuccino Twilight
By Ed Errington
The Strike
By Grant Terry
The Goodbye
By E A Fow

The Intercept
By Luis Shalako
The Facts In The Case of K Klown
By Anthony Owens
Searching
By Mark Tremble
Art, Ink
By Jason Fischer & Martin Livings
End of An Era
by Antoinette Rydyr
Popular Stories

The AntipodeanSF Radio Show delivers audio from the pages of this magazine.
The monthly program features all of the issue's stories, usually narrated by the authors themselves, with occasional reviews, news, interviews, or longer stories.
The AntipodeanSF Radio Show is broadcast in the Nambucca Valley, on the Mid North Coast of NSW on one Sunday evening per month, on community radio, 2NVR, 105.9FM.
You can find every episode online here: http://antisf.libsyn.com
Or you can listen to the latest show right here, right now:
New Books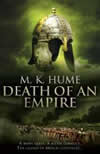 Prophecy: Death of an Empire

M. K. Hume

The second dramatic episode in the heroic life of Merlin.

Merlin's epic quest continues as he journeys to Constantinople in search of his father.

Myrddion Emrys of Segontium is the product of a brutal rape, but when King Vortigern hints at his father's identity, Myrddion embarks on a journey across France and Italy to Constantinople.
Read more...