SF Quotes
" Nothing is always absolutely so "
Theodore Sturgeon, The Claustrophile
Facebook AntiSF
Login Form
Why Not Visit

Do you like your SF in audio?
Of course you do. Well, why not visit Beam Me Up Podcast and radio show, often featuring selected stories from AntipodeanSF, run by your host Paul Cole of WRFR.
Next Issue
Cappuccino Twilight
By Ed Errington
The Strike
By Grant Terry
The Goodbye
By E A Fow

The Intercept
By Luis Shalako
The Facts In The Case of K Klown
By Anthony Owens
Searching
By Mark Tremble
Art, Ink
By Jason Fischer & Martin Livings
End of An Era
by Antoinette Rydyr
Popular Stories
Web Links
Use our hyperspace (okay, text) links to visit other sites that may be of interest to you.
New Books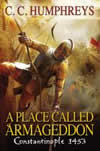 A Place Called Armageddon

C.C. Humphreys

An epic new novel about one of Western civilisation's most traumatic events - the Fall of Constantinople...

To the Greeks who love it, it is Constantinople. To the Turks who covet it, the Red Apple. Safe behind its magnificent walls, the city was once the heart of the vast Byzantine empire.

1453. The empire has shrunk to what lies within those now-crumbling walls. A relic. Yet for one man, Constantinople is the stepping stone to destiny.

Mehmet is twenty when he is annointed Sultan. Now, seeking Allah's will and Man's glory, he brings an army of one hundred thousand, outnumbering the defenders ten to one.
Read more...