SF Quotes
" Science fiction writers foresee the inevitable, and although problems and catastrophes may be inevitable, solutions are not. "
Isaac Asimov
Facebook AntiSF
Login Form
Why Not Visit

Do you like your SF in audio?
Of course you do. Well, why not visit Beam Me Up Podcast and radio show, often featuring selected stories from AntipodeanSF, run by your host Paul Cole of WRFR.
Next Issue
Cappuccino Twilight
By Ed Errington
The Strike
By Grant Terry
The Goodbye
By E A Fow

The Intercept
By Luis Shalako
The Facts In The Case of K Klown
By Anthony Owens
Searching
By Mark Tremble
Art, Ink
By Jason Fischer & Martin Livings
End of An Era
by Antoinette Rydyr
Popular Stories
E-Reader
Electronic Publications
Electronic publications from AntiSF.
E-Pub versions created by Mark Webb.
These files are e-reader versions of AntipodeanSF specifically tailored for viewing on electronic devices that may not have a web browser, or for the perusal of AntiSF while offline. Try them on your i-phone, i-pod, i-pad, android tablet, android phone, Kindle or any other e-reader device.


AntipodeanSF by Ion Newcombe (editor), Mark Webb (epub creation), and various contributors to each issue is licensed under a Creative Commons Attribution-NonCommercial-NoDerivs 3.0 Unported License.
Based on a work at http//antisf.com.au.
Permissions beyond the scope of this license may be available at http://antisf.com.au/contact.
New Books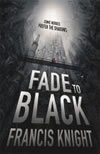 Fade to Black
Francis Knight
From a British debut fantasy author comes this highly original trilogy drenched in atmosphere and guaranteed to grip readers to the core. A must-read tale of corruption and dark magic, set in the vertigo-inspiring city of Mahala.
Mahala: a city built in the dark depths of a valley. A city built up in layers, not across - where streets are built upon streets, buildings balance precariously upon buildings. A city that the Ministry rules from its lofty perch at the sunlit summit & where the forsaken lurk in the shadowy depths of the Pit.
Read more...