SF Quotes
" Any sufficiently advanced technology is indistinguishable from magic. "
Arthur C. Clarke
Facebook AntiSF
Login Form
Why Not Visit

Do you like your SF in audio?
Of course you do. Well, why not visit Beam Me Up Podcast and radio show, often featuring selected stories from AntipodeanSF, run by your host Paul Cole of WRFR.
Next Issue
Cappuccino Twilight
By Ed Errington
The Strike
By Grant Terry
The Goodbye
By E A Fow

The Intercept
By Luis Shalako
The Facts In The Case of K Klown
By Anthony Owens
Searching
By Mark Tremble
Art, Ink
By Jason Fischer & Martin Livings
End of An Era
by Antoinette Rydyr
Popular Stories
New Books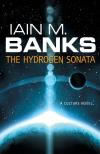 The Hydrogen Sonata
Iain M. Banks
A brand new Culture novel from the UK's leading SF writer - always the biggest annual event in British SF.
The new Culture novel from one of the most exciting science fiction writers of modern times - a tour de force of storytelling, world-building and imagination.
It is, truly, provably, the End Days for the Gzilt civilization.
An ancient people, they helped set up the Culture ten thousand years earlier and were very nearly one of its founding societies, deciding not to join only at the last moment.
Read more...