SF Quotes
" When a distinguished but elderly scientist states that something is possible, he is almost certainly right. When he states that something is impossible, he is very probably wrong. "
Arthur C. Clarke
Facebook AntiSF
Login Form
Why Not Visit

Do you like your SF in audio?
Of course you do. Well, why not visit Beam Me Up Podcast and radio show, often featuring selected stories from AntipodeanSF, run by your host Paul Cole of WRFR.
Next Issue
Lara Croft & The Circle Of Time
By Wes Parish
Star Light, Star Bright
By Rie Sheridan Rose
Spotter
By Jake Wickenhofer

The Sack Man
By Bart Meehan
The Granary
By Kevin J. Phyland
Signal Assassin
By Shane Griffin
The Listener
By David Shanahan
Capsules
by Tonia Marlowe
Rogue Wave
by DW Walker
Books Just In
Apocalyptica - Rogue Memories - by Shane Griffin

Apocalyptica - Rogue Memories
Shane Griffin
The debut SF novel from a regular AntiSF contributor...
Get it at Smashwords
Price: $2.99 USD.
Approx. 128,090 words.
Language: English.
Published on May 11, 2013.
Category: Fiction.
Hirri is a talented Sioken, someone who can control minds. His job is to keep the peace. However, his brain has been damaged and is augmented by AI. He has lost part of who he is.
Morgan is Hirri's Linker, the one who keeps him from losing control. Their minds are linked through the psych-link. If she dies he dies.
Wild Justice - Kelley Armstrong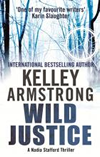 Wild Justice
Number 3 in series
No - not Speculative, but by an otherwise well-known speculative author, so give it a go!
Kelley Armstrong
Wild Justice: the dramatic finale to the Nadia Stafford trilogy.
Ex-cop Nadia Stafford has a dark secret. After taking the law into her own hands she was kicked off the force. . . and entered the shadowy world of guns for hire. She has her own strict code - works only for one crime family, only kills the really bad guys. But when a hit goes tragically wrong, Nadia is devastated. Is it time to leave the business for good?

Mark Webb's midlife crisis came in the form of attempting to write speculative fiction at a very slow pace. His wife maintains this is a good outcome considering the more expensive and cliched alternatives. Evidence of Mark's attempts to procrastinate in his writing, including general musings and reviews of books he has been reading, can be found at <www.markwebb.name>.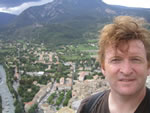 New Books

True Path: Timesplash 2
Graham Storrs
Fiction / Science Fiction / Thriller / Time Travel
ISBN
9781743342640
Release Date
1 July 2013
Ebook RRP
$2.99
The biggest timesplash ever. An orgy of destruction. A new American revolution.
It's 2066 and Sandra has kept a low profile for 16 years, working as a tech in a quiet British university, hoping her past would never catch up with her. But it has.
Read more...