SF Quotes
" Any dogma, primarily based on faith and emotionalism, is a dangerous weapon to use on others, since it is almost impossible to guarantee that the weapon will never be turned on the user. "
Isaac Asimov, Foundation
Facebook AntiSF
Login Form
Why Not Visit

Do you like your SF in audio?
Of course you do. Well, why not visit Beam Me Up Podcast and radio show, often featuring selected stories from AntipodeanSF, run by your host Paul Cole of WRFR.
Next Issue
Cappuccino Twilight
By Ed Errington
The Strike
By Grant Terry
The Goodbye
By E A Fow

The Intercept
By Luis Shalako
The Facts In The Case of K Klown
By Anthony Owens
Searching
By Mark Tremble
Art, Ink
By Jason Fischer & Martin Livings
End of An Era
by Antoinette Rydyr
Popular Stories
| | | | |
| --- | --- | --- | --- |
| Where in The World Is AntiSF? | | | |
AntipodeanSF comes to you from Nambucca Heads, right in the heart of the Nambucca Valley — a prime holiday destination on the mid-north coast of NSW in Australia.
Why not consider visiting the Nambucca Valley when you next take a holiday?
Sun, surf, bush and perfect weather...


New Books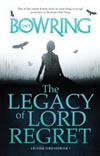 The Legacy of Lord Regret: Strange Threads Book 1
Sam Bowring
Book One of the STRANGE THREADS duology. Centuries have passed since the Wardens slew the tyrant Lord Regret, but while the Wound that he ripped in the sky remains open, the earth trembles and the sun vanishes without warning.
The great warrior Rostigan wanders Aorn, weary of battle and unwanted renown. With him travels his lover, the minstrel Tarzi, who hopes she may soon witness further deeds from him worthy of song and tale. Despite Rostigan s reluctance to re-enter the world, she may get what she wishes for . . .
Read more...