SF Quotes
" Any dogma, primarily based on faith and emotionalism, is a dangerous weapon to use on others, since it is almost impossible to guarantee that the weapon will never be turned on the user. "
Isaac Asimov, Foundation
Facebook AntiSF
Login Form
Why Not Visit

Do you like your SF in audio?
Of course you do. Well, why not visit Beam Me Up Podcast and radio show, often featuring selected stories from AntipodeanSF, run by your host Paul Cole of WRFR.
Next Issue
Cappuccino Twilight
By Ed Errington
The Strike
By Grant Terry
The Goodbye
By E A Fow

The Intercept
By Luis Shalako
The Facts In The Case of K Klown
By Anthony Owens
Searching
By Mark Tremble
Art, Ink
By Jason Fischer & Martin Livings
End of An Era
by Antoinette Rydyr
Popular Stories
In a nutshell, AntipodeanSF brings the 'other' briefly, and sometimes horribly, into view (as most good SF does).
AntipodeanSF is devoted to the online publication of short-short science/speculative fiction stories (and occasionally other shorter material within that genre).
AntipodeanSF online is archived by the National Library of Australia, and you are able to view past issues by visiting the library on the Internet. Visit the PANDORA archive section.
Stories by Australian authors in AntiSF are indexed for scholarly access purposes by Austlit <www.austlit.edu.au>. Similarly, all stories by Australian authors are automatically entered for consideration into the yearly Aurealis Awards.
AntipodeanSF intends to remain in publication for a long time to come.
Please note that submission of cartoons, quips and very short reviews is also encouraged.
AntipodeanSF is also soon to be produced in audio format, for broadcast on non-commercial radio/podcast.
The best way to contact Ion, the editor, is via the contact page.

New Books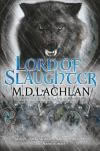 Lord of Slaughter
M.D. Lachlan
M.D Lachlan's century-spanning series of gods, wolves and humans reaches the 10th century and Constantinople, magic, Christianity and intrigue.
On a battlefield strewn with corpses, a ragged figure, dressed in wolfskin and intent on death, slips past the guards into the tent of the Emperor and draws his sword.
The terrified citizens of Constantinople are plagued by mysterious sorcery. The wolves outside the city are howling. A young boy had traded the lives of his family for power.
Read more...